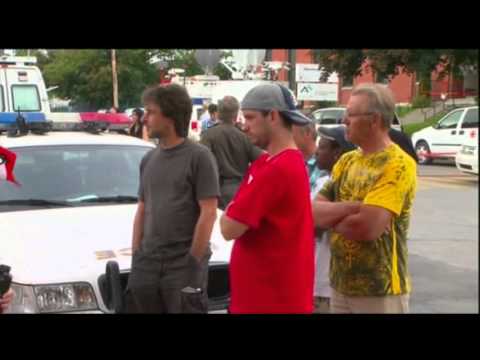 As my colleague Ian Austen reports, the head of the railway company told reporters Monday during his first visit to Lac-Megantic in Quebec that an employee failed to properly set the brakes on the oil-filled train that exploded when it crashed into the town early Saturday. At least 20 people are confirmed dead. The police also said that 30 more people were still missing, and it is widely assumed that they are dead.
Edward Burkhardt, president and CEO of Rail World Inc., which owns the Montreal, Maine & Atlantic Railway train, said a train engineer has been suspended without pay and would not "be working with us again." The train was unmanned and carrying oil when it broke loose and traveled downhill nearly seven miles before the crash. At least five of the train's 73 cars carrying oil exploded.
"I think he did something wrong … We think he applied some hand brakes but the question is did he apply enough of them," Mr. Burkhardt told reporters. "He said he applied 11 hand brakes, we think that's not true. Initially we believed him, but now we don't."
As the Canadian Broadcasting Center reports, Mr. Burkhardt was peppered with questions from angry residents as well as reporters. And Quebec Premier Pauline Marois, at an earlier press conference, faulted the company's response to the disaster.
"We have realized there are serious gaps from the railway company from not having been there and not communicating with the public," Ms. Marois said.
The local government posted multiple aerial photos of the devastation on its Facebook page. The CBC shared a view of what this small town near the Maine border looked like from space when the crash occurred on July 6.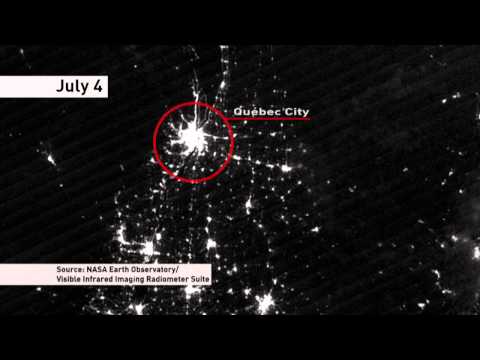 New video of the explosion was uploaded Monday onto YouTube by Eric Lavallée who captured the fiery crash from his balcony.
@ArponBasu From my balcony… Insane. Train Tragedy in Downtown Lac-Megantic: http://t.co/xPr9RKjMgQ via @youtube
People have also been turning to a Facebook page created shortly after the explosion to help find loved ones.