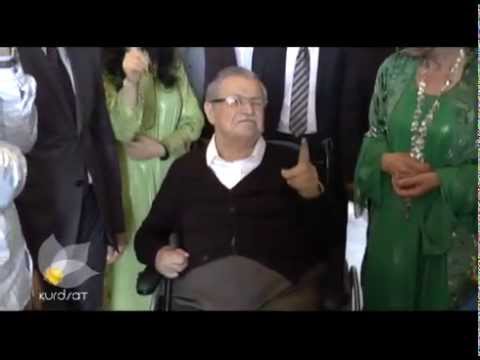 A video from Kurdsat Broadcasting Corporation published on April 28 that is said to show President Jalal Talabani voting in Iraq's parliamentary elections.
Video of a rare appearance of the ailing president of Iraq, Jalal Talabani, has surfaced on social media pages, just as some voting gets underway for the first parliamentary elections since the United States withdrawal from Iraq in 2011.
A Facebook page affiliated with the news organization connected to Mr. Talabani's Patriotic Union of Kurdistan (PUK) Party posted the video, as did the one belonging to the Kurdsat Broadcasting Corporation channel, which originally released it.
It showed a few seconds of Mr. Talabani seated in a wheelchair, at one point smiling weakly. A close-up shot is then edited in showing a ballot being cast, and then subsequent footage shows the Iraqi president holding up the index finger on his left hand, stained blue as confirmation that he had voted, as those gathered around him applaud. His right hand is immobile, and appears to be clutching a cane.
One Iraqi official said that a ballot box had been brought to the medical facility in Berlin where Mr. Talabani is being overseen by doctors.
The footage during the few seconds that he appeared was unremarkable. But by showing Mr. Talabani alive, holding up his hand, and responding to those around him, some of them dressed in traditional Kurdish clothing, his party is apparently intending to impart a message of political significance for its parliamentary candidates as voters go to the polls.
Violence erupted in the wake of the video, news agencies in Iraq reported. Agence France-Presse said that a suicide bomber killed about 20 people who had gathered in the mostly Kurdish town of Khanaqin in Diyala Province, north of Baghdad, to celebrate the Talabani video. The agency quoted security and medical officials in its report.
Mr. Talabani, a Kurd, suffered a stroke and was flown to Germany for treatment at the end of 2012. As president, his influence in mediating disputes among the country's many factions far outweighed the limited powers of the office, and his illness added a new level of uncertainty to the country's divided politics.
Since then, many in his party have demanded information, but he has not appeared publicly, and his closely knit circle of family, aides and medical personnel has been guarded about his medical condition and progress.
On Twitter on Monday, local media, political parties and other observers reported that, after Mr. Talabani's appearance in the video, more than a dozen people were injured when weapons were fired into the air in celebration in the city of Sulaimaniya, one of the biggest cities in the semiautonomous Kurdish region of Iraq.
A crowd of revelers gathered at an office of Talabani's Patriotic Union of Kurdistan party. http://t.co/FBc5XIJDv2
Sulaimaniyah, Iraq erupts in celebration over video showing President Talabani, in Germany for treatment since 2012. http://t.co/2b1XcvP5nZ
Photo from today: Firing outside @HawlatiNews offices to celebrate the news about Jalal Talabani voting from Germany http://t.co/tZ6gmkG9iv
Slemani traffic as people celebrate the new about Jalal Talabani first video since he fell ill in Dec 2012 http://t.co/dLywgIcvfS
Before the video was released, local media had reported that Mr. Talabani would be voting in the German city.
Iraqis started voting on Sunday, including those living outside of the country, and police and security forces voted on Monday. But the full elections inside Iraq are scheduled for April 30. As my colleagues Tim Arango and Duraid Adnan reported last week, Iraqis are going to the polls against the backdrop of worsening sectarian tensions.
Tim Arango contributed reporting from Baghdad.
Follow Christine Hauser on Twitter @christineNYT.