Two months after he claimed to have embraced sobriety, Mayor Rob Ford of Toronto was caught on video late Monday complaining about police surveillance of him and his associates in a drunken, obscenity-laced rant peppered with Jamaican patois.
As The Toronto Star reports, the mayor's brother, Doug Ford, initially told reporters that while the 66-second clip uploaded to YouTube on Tuesday "obviously" showed his brother, it could not have been recorded on Monday at a fast-food restaurant as the anonymous videographer claimed, since his brother, who slurred his words in the rambling monologue, no longer drinks or uses drugs.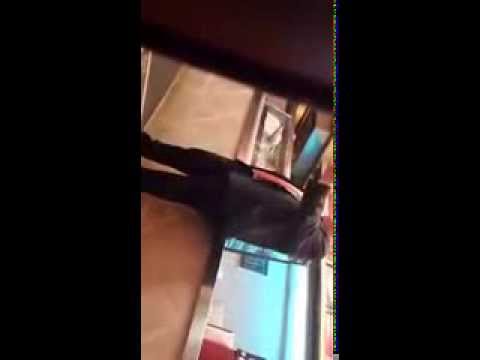 An excerpt from video posted on YouTube on Tuesday that appears to show Toronto's mayor, Rob Ford, using Jamaican patois in an obscenity-laced monologue at a fast-food restaurant.
Doug Ford, who serves on the City Council, said that his brother "hasn't taken a drink" since November, when he was forced to admit that he had smoked crack cocaine "in one of my drunken stupors," after reporters and the city's police chief described viewing video of the mayor using the drug.
Within hours, however, that explanation was no longer operative.
Doug Ford said he can "guarantee" this video wasn't from last night. Rob Ford confirms it was from last night.
After evidence appeared online showing that the mayor had posed for a photograph late Monday at the Steak Queen location seen in the video, he admitted to reporters that he had been drinking and was speaking to "some personal friends" when the video was recorded. Audio of the mayor's remarks to reporters was posted on Soundcloud by Daniel Dale, The Star's acting city hall bureau chief.
The mayor spoke to reporters after Jonathan Goldsbie, a journalist who chronicled Mr. Ford's antics before they were international news, drew attention to a photograph of Mr. Ford posing with patrons of the Steak Queen in the city's Rexdale neighborhood that was posted on Instagram in the early hours of Tuesday morning.
Photo of Rob Ford at Steak Queen posted to Instagram just after midnight: http://t.co/TT79E8B5vk
That photograph, captioned "The Peoples Champion #robford," and tagged "#rexdale #steakqueen," was later made private by Herman Atwal, the Instagram user who posted it, but not before a screen shot was made by The Lede.
As Mr. Goldsbie reported in 2012, the Steak Queen on Rexdale Boulevard posted a photograph on Twitter that year which showed the mayor standing at the counter there, captioned "ROB FORD AT STEAK QUEEN AGAIN." The image, published at 5:47 a.m. on June 7, 2012, appeared to show Mr. Ford, alongside an employee, standing in almost the exact same spot as in the video posted on YouTube on Tuesday. Although the photograph was then deleted from the @SteakQueen account, a screen shot of the tweet illustrated an article Mr. Goldsbie wrote for The Grid, a Toronto weekly.
News of the mayor's affection for patois quickly reached Jamaica, where, by chance, the main story in Tuesday's print edition of the Kingston newspaper The Gleaner, about a deal to export medical marijuana to Mr. Ford's nation, appeared under the headline, "Canada Wants Weed."
One Jamaican blogger, Ross Sheil, saluted the Toronto mayor's obvious ability to entertain, if not govern.
Not saying from a representational point of view that I'd want #RobFord as my mayor. But for entertainment? Hell yes.
Asked for her reaction, Annie Paul, a Jamaican critic and blogger, joked that Mr. Ford "has serious Yardie cred," using a word from the local patois denoting a gangster, and gave him credit for at least borrowing obscenities from a dialect so rich in them.
BBC! :) he has serious Yardie cred, if that is indeed the Mayor RT @RobertMackey: @anniepaul any thoughts on this? http://t.co/XnIhS7TXdi
C'mon @RobertMackey you have to rate Mayor Ford for being discriminating enough to swear in Jamaican…thanks for the heads up :)
Robert Mackey also remixes the news on Twitter @robertmackey.
This post has been revised to reflect the following correction:
Correction: January 21, 2014
An earlier version of this post misstated the first name of The Toronto Star reporter Daniel Dale.