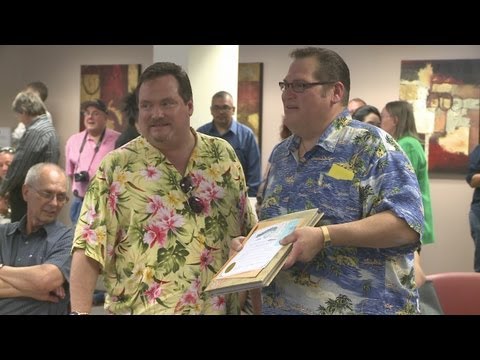 More than 100 people lined up outside the county clerk's office in Albuquerque to get marriage licenses Tuesday morning, the day after a state district judge ruled that same-sex marriage was legal.
The crowd cheered as the first couple â€" Patricia Catlett, 61, a graphic designer, and her partner of 25 years, Karen Schmiege, 69, a retired librarian â€" received their license in Bernalillo County, according to The Associated Press. By noon, KRQE News 13 reported, a mass wedding was held in Albuquerque's Civic Plaza.
First couple to be issued a marriage license today in Bernalillo County! http://t.co/pkgoaHK9FU
Clerks in two other counties in New Mexico have also agreed to begin issuing licenses to same-sex couples.
Couples at mass, same-sex wedding in Albuquerque, NM. http://t.co/syZW2RL9g1
As The Santa Fe New Mexican reported, the clerk in Doña Ana County decided last Wednesday to begin issuing marriage licenses to gay and lesbian couples. Two days later, a judge in Santa Fe ordered that county's clerk to issue them as well, in response to a narrow request that the state recognize a dying woman's marriage to her longtime partner on a death certificate. Then, on Monday, Judge Alan Malott of State District Court ordered the clerk in Bernalillo County, which includes Albuquerque, to begin issuing marriage licenses to same-sex couples, ruling that the state's constitution prohibited discrimination on the basis of sexual orientation.
In response, Maggie Toulouse Oliver, the Bernalillo County clerk, posted on her Facebook page:
I'm very happy and proud to finally be issuing marriage licenses to same-sex couples in Bernalillo County. Furthermore, I am beyond relieved to have some judicial guidance in this matter that immediately resolves the conflict that existed between state law and our state constitution. Marriage is a fundamental civil right that should be acknowledged and respected at all levels of government. Judge Malott's ruling today has made it clear that the fundamental assumption of that civil right outweighs other technicalities and concerns.
But Judge Malott's ruling does not apply to all New Mexico counties, according to state officials. And Republican lawmakers said they would propose legislation to block county clerks from issuing marriage licenses to same-sex couples.
Tips, sources, story ideas? Please leave a comment or find me on Twitter @jenniferpreston.