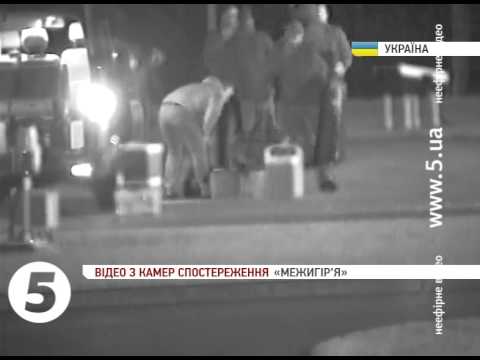 Security-camera footage broadcast on Ukrainian television on Saturday, said to show the entourage of the country's deposed president fleeing his residence.
Viktor Yanukovych may have vanished early Saturday from Ukraine's presidential palace outside Kiev, but not without a trace. His entourage left behind security-camera images of a hasty flight from the lavish compound, and something else â€" tens of thousands of apparently incriminating documents that were still floating near a dock at the waterfront residence when journalists and curious spectators arrived.
Since then, reporters from a dozen media organizations have been combing through the sodden papers at the Mezhyhirya compound along the Dnieper River, and on Tuesday they published high-quality images of hundreds of documents on a new website they call YanukovychLeaks. It quickly drew more than a million hits, according to Natalie Sedletska, a journalist for Radio Free Europe's Ukrainian service.
Journalists, investigators pore through trove of Mezhyhirya documents Yanukovych left behind http://t.co/GlQfBOCOmh http://t.co/vOnUNpGIbU
Ð-апрацював сайт http://t.co/R4U0A2rexU
Ð'ночі почали викладати перші сотні межигірських документів. #yanukovychleaks http://t.co/52zm5shxGW
1.5 million hits reached #yanukovychleaks
In a report for Mashable, the Kiev-based journalist Christopher Miller explained that "nearly 200 folders filled with thousands of invoices, contracts, insurance policies, cash payment orders and other documents were recovered from the murky depths. The edges of some had been scorched, suggesting that before fleeing Yanukovych had first ordered them to be burned before they were tossed into the sea."
As volunteer divers searched below the surface for more documents, and the president's boathouse served as a drying room, one of the journalists, Katya Gorchinskaya of the English-language Kyiv Post, has been filing regular updates on the search through the contracts, receipts and invoices on her Twitter feed.
diver about to dive into freezing Kyiv Sea to keep looking for Yanukovych files in #Mezhyhirya http://t.co/PajSkwj2rx
journos sorting docs in Mezhygirya KP's Vlad Lavrov is in the middle #Ukraine #Euromaidan http://t.co/c70ry7XQ0d
docs drying in #Yanukovych speedboat in #Mezhyhirya #Ukraine http://t.co/KwYuaYFRu3
a document from #mezhyhirya commissioning a 'Running boar' decoration for Hr 914900 #Ukraine #Yanukovych http://t.co/LThwvXtLC8
€1,695,744 worth of wooden decor for tea room in #Mezhyhirya commissioned #Yanukovych #Ukraine http://t.co/wQtYNRQVUE
Hr 56 million spent on monitoring mass media in Dec. 2010 for #Yanukovych #Ukraine http://t.co/g5rYJOcSpT
Jun 24,2009 Yanukovych's game-keeper spent Hr7,660 on medical aid for fish in #Mezhyhirya. hope they r well http://t.co/AxujtuUqy3
on June 1, 2011 Tantalit got a bill for 7 tablecloths worth Hr141,182 for Yanukovych's home. #Ukraine http://t.co/fXZzhvrBYc
Document shows €30,660,000 worth of light fixtures at Yanukovych's estate. Photo @kgorchinskaya, @KyivPost http://t.co/db1KketUGd #ukraine
sorting thru Mezhyhirya files. day 2. @natasedletska @annababinets @MichaelShchur @akymenko_y #Ukraine http://t.co/3fuCmYbbLK
Follow Robert Mackey on Twitter @robertmackey.