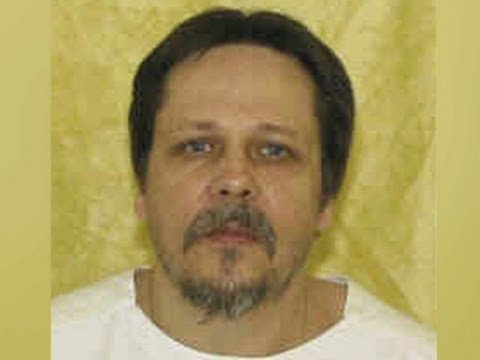 Dennis McGuire, 53, was executed by lethal injection at the Southern Ohio Correctional Facility in Lucasville. Associated Press.
A 53-year-old convicted killer's unusually slow death while being executed with an untested combination of drugs in Ohio on Thursday has renewed the debate over lethal injection and the death penalty.
As my colleague Rick Lyman reported, witnesses offered similar accounts of Dennis McGuire struggling to die after he was administered the lethal injection.
Records examined Friday showed that it took more than 20 minutes for him to die, prompting one of his lawyers to call the execution a "failed, agonizing experiment by the state of Ohio."

But concern expressed over his execution and the new drugs used in lethal injection has sparked outrage online against Mr. McGuire, who was convicted of raping and murdering Joy Stewart, a 22-year-old pregnant woman whose body was found with her throat slashed in 1989 by two hikers in a field.
The prosecutors and the family of Ms. Stewart said that the debate over how much Mr. McGuire gasped and struggled in his final minutes only reminded them of what she endured before she and her unborn baby were killed.
Carol Avery, a sister of the victim, told reporters that her sister suffered and was treated less humanely than Mr. McGuire was as a death row inmate.
In a statement after the execution, the Stewart family said:
There has been a lot of controversy regarding the drugs that are to be used in his execution, concern that he might feel terror, that he might suffer. As I recall the events preceding her death, forcing her from the car, attempting to rape her vaginally, sodomizing her, choking her, stabbing her, I know she suffered terror and pain. He is being treated far more humanely than he treated her.
Since European manufacturers stopped selling drugs that were used for executions, such as pentobarbital and sodium thiopental, as my colleague Manny Fernandez reported last fall, corrections officials from Ohio, Texas and other states have been struggling to come up with a new formula.
Kantele Franko/Associated Press
Ohio used a new combination of drugs for the first time on Mr. McGuire
Allen Bohnert, one of McGuire's federal public defenders, said that the people of Ohio "should be appalled by what was done in their name."
In Dayton, Ohio, Jon Paul Rion, a lawyer for the family of Mr. McGuire, said at a news conference on Friday that he would file a federal lawsuit against the state, objecting to the troubled execution.
IMAGE: Jon Paul Rion, attorney of the McGuire family, held a press conference today in Dayton, OH. #deathpenalty http://t.co/w7XXgsV7By
Both sides of the death penalty debate took to Twitter and social media to discuss the case including a nun, Sister Helen Prejean, whose work with death row inmates was featured in the film "Dead Man Walking."
My prayers are with the families of Joy Stewart & Dennis McGuire. Ask @JohnKasich for #MoratoriumNow so more families don't have to suffer
Pls share. People everywhere MUST call on Gov. Kasich to issue a #moratoriumnow http://t.co/dcNKiwXrdw @one_for_ten @NAACP_LDF @HipHopCaucus
We need to find a better way to execute killers, but I have no sympathy for Dennis McGuire. He raped and stabbed a pregnant woman.
@FoxNews
My sympathies remain with Joy Stewart.
How long did she suffer at the hands of McGuire? My bet is, longer than 15 minutes. @FoxNews
The REAL victims of the monster killed via Ohio Lethal Injection today. #RIP Joy Stewart (and her unborn) @theblaze http://t.co/LBIR47XMSU
Alan Johnson, a reporter for The Columbus Dispatch who said he had witnessed 18 executions, was present at the state prison in Lucasville for Mr. McGuire's execution. In his account for The Dispatch, he described Mr. McGuire's death:
His body strained against the restraints around his body, and he repeatedly gasped for air, making snorting and choking sounds for about 10 minutes. His chest and stomach heaved; his left hand, which he had used minutes earlier to wave goodbye to his family, clenched in a fist.
While at the prison, Mr. Johnson also posted updates on Twitter during the execution.
Dennis McGuire's execution will proceed as planned. No court intervention. His son, daughter will witness.
Dennis McGuire's death was difficult , he gasped, choked, clenched his fists while apparently unconscious.
Inmate's son, daughter, daughter in law sobbed loudly throughout. Family of victim silent.