As my colleagues Scott Cacciola and Billy Witz report, the N.B.A. is investigating a report that Donald Sterling, the Los Angeles Clippers' owner, made "disturbing and offensive" remarks about black people to a female friend.
According to the report, published online by TMZ, Mr. Sterling disapproved of the woman's being seen publicly with black people, including her posting of pictures on Instagram with figures like Magic Johnson. Mr. Sterling has not explicitly denied that the recording was him, but has said through the team's president, Andy Roeser, that the recording "is not consistent with, nor does it reflect, his views, beliefs or feelings."
Reaction around the league, whose players are predominantly black, was swift, just as it was on social media, where current and former players, entertainers and ordinary people chimed in using hashtags like #DonaldSterling, #Sterling and #boycottclippers.
Kobe Bryant, the Lakers' All-Star guard, commented on Twitter:
I couldn't play for him
Magic Johnson, the former Lakers star and part owner of the team, said on Twitter that the remarks were a "black eye for the NBA," and he vowed to boycott Clippers games as long as Mr. Sterling remained the owner.
LA Clippers owner Donald Sterling's comments about African Americans are a black eye for the NBA.
I feel sorry for my friends Coach Doc Rivers and Chris Paul that they have to work for a man that feels that way about African Americans.
.@cjbycookie and I will never go to a Clippers game again as long as Donald Sterling is the owner.
Some entertainers weighed in. The rapper Snoop Dogg posted a short, profanity-laden tirade on Instagram.
The Instagram user islam2christ said Mr. Sterling should have known better since he is Jewish. "Feel bad for the players," the user said. "He needs to realize that many people don't like Jews like him. He needs to be more empathetic to say the least."
Dr. Greg Carr, the chairman of the Afro-American studies department at Howard University, a historically black college, connected the remarks to racially tinged statements others have made recently. The report followed remarks made this week by Cliven Bundy, a Nevada rancher who gained notoriety after saying he wondered whether black people may have been better off under slavery than now.
Donald Sterling continues recent unvarnished race opinion in American law, politics & culture. Keep this up and the facade might crumble.
The controversy is an early test for Commissioner Adam Silver, who took the league's top job in February. At halftime during TNT's coverage of Game 4 of the Atlanta Hawks-Indiana Pacers series, Shaquille O'Neal articulated his view of the investigation's central question.
"It's one thing to say something that's controversial; it's another thing to say something that's very repugnant," he said. "The question is now, should this guy continue being an owner."
He concluded: "I think the league should take a very long, hard look at whether this guy should continue being an owner or not."
Charles Barkley was more forceful and echoed the sentiments of many people who argued that the N.B.A. should expel Mr. Sterling. He noted that Mr. Sterling had faced accusations of racial bias before.
As Mr. Witz reported, Sterling paid a record $2.725 million in 2009 to settle a housing discrimination suit brought by the Justice Department on behalf of African-Americans and Latinos, and families with children. The same year, Elgin Baylor, the former longtime general manager of the Clippers, accused Mr. Sterling of racial discrimination in an unsuccessful lawsuit for wrongful termination.
"We cannot have an N.B.A. owner discriminating against a league that â€" we're a black league," Mr. Barkley said.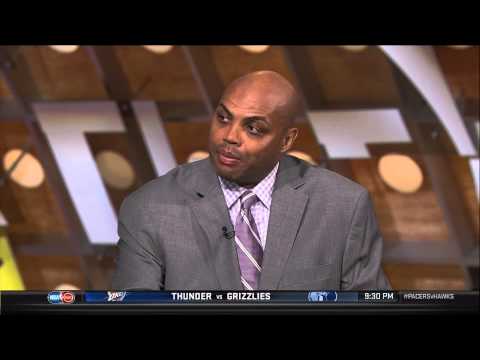 Some users said that strong action â€" a fine, a suspension or an expulsion â€" was necessary, pointing to the league's tendency to make employees and players pay for even minor infractions. Matt Barnes, a Clippers small forward, was fined $25,000 in December for using a racial slur on Twitter. Mr. Sterling, who Forbes estimates is worth about $1.9 billion, could easily pay a penalty above the record fine slapped on the Minnesota Timberwolves for $3.5 million for violating the salary cap. The highest fine the league has given an individual is the $500,000 penalty against the Dallas Mavericks' owner, Mark Cuban, in 2002 for criticizing N.B.A. officials.
There was little public reaction from the Clippers organization on Saturday outside of statements from Doc Rivers, a former Clippers point guard and the team's coach, and Mr. Roeser, the Clippers' president.
"This is a situation where we're trying to go after something very important for us, something that we've all dreamed about all our childhoods, and Donald or anyone else had nothing to do with that dream, and we're not going to let anything get in the way of those dreams," he said after a team practice on Saturday, according to The Los Angeles Times.
Players kept a low profile after practice on Saturday as the team prepared to resume its first-round playoff series against the Golden State Warriors on Sunday. But shortly after news of the remarks broke, DeAndre Jordan posted a black photo on Instagram.
Users had opinions about whether the players should boycott the playoffs to force Mr. Sterling's removal.
I feel the Clippers organization should boycott the playoffs and refuse to play for a bigot owner until he is ousted by the league.
In response to Mr. Jordan's post on Instagram, user serg815 wrote: "You guys have been great this year! Don't give up or falter because of his stupidity and ignorance! Let's hope the league acts swiftly and aggressively! Together we stand, together we fall! #ClipperNation"