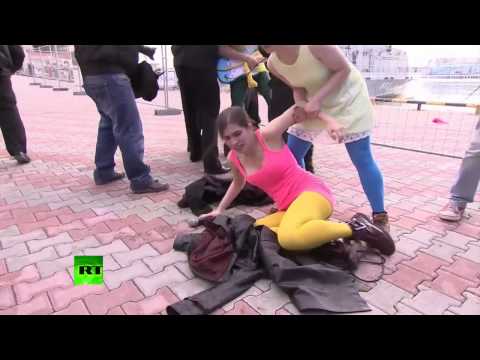 A copy of video first posted on YouTube by the state-owned news organization Russia Today showing Pussy Riot activists being beaten by Cossacks in Sochi on Wednesday.
There were signs of confusion in the official response to a new performance by the Russian protest band Pussy Riot on Wednesday in Sochi, as the activists were first set upon by Cossack militiamen and beaten with whips and pepper spray, but then allowed to retrieve their guitar from a trash can and leave without being arrested.
Панорама столкновения Pussy Riot с казацкими войсками в парадной форме в олимпийском Сочи http://t.co/o4RfPuHFyb
The authorities were perhaps trying to avoid the mistake they made one day earlier, when the two leading members of the punk group, Nadezhda Tolokonnikova and Maria Alyokhina, were bundled into a police van and drew the attention of the world to their plight by live-tweeting their brief detention.
A photograph posted on Twitter later by Semyon Simonov, a local activist with the nonprofit organization Memorial, showed that the women, in masks, as earlier, restaged their performance elsewhere, under the Olympic rings outside Sochi's city hall.
Pussy Riot поют прямо сейчас на площади перед Администрацией Сочи http://t.co/hbTRHpNIj4
According to The Associated Press, police officers watched the second performance but did not intervene as Ms. Tolokonnikova and Ms. Alyokhina, joined by two other masked women, danced and sang the title of their new song, "Putin Will Teach You How to Love the Motherland!" At one point, they even posed for photos with an Olympic mascot.
Even so, the initial beating of the women in front of journalists ensured that the authorities once again helped the activists to dramatize the Russian state's intolerance of dissent in images perfectly suited to sharing on social networks, broadcast on satellite news bulletins and perhaps even inclusion in the group's next music video.
Ð"убинки казаков на груди @tolokno . #любитьродину http://t.co/d5gIMjKNiu
Крутая фотка http://t.co/reXTVmV7OM
Pussy Riot Sochi arrest on 1000 screens at Sochi official media centre. Surreal!! http://t.co/oNM7l4zgwc
There seemed to be confusion, too, in how the incident was reported by a state-owned news organization, Russia Today, which exists to put the Kremlin's spin on events for an international audience. Russia Today's English-language web staff initially drew attention to the disrupted stunt on Twitter and posted video on YouTube of what it called, in the Internet's mocking vernacular, a "performance fail." A short time later, however, the news organization removed the video from its YouTube channel and deleted the tweet promoting it (although not before copies of both were made by journalists).
Follow Robert Mackey on Twitter @robertmackey.