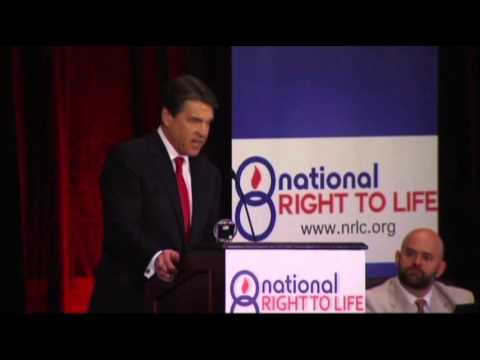 Two days after Texas lawmaker Wendy Davis vaulted into the political spotlight for helping defeat a bill restricting abortion rights by staging an 11-hour-long filibuster, Gov. Rick Perry said it was unfortunate she had not learned that "every life matters," given that she was the child of a single mother who went on to earn a Harvard law degree.
In a speech to nearly 1,000 delegates at the conference near Dallas, Mr. Perry struck hard at Ms. Davis, 50, asking the crowd, "Who are we to say that thechildren born in the worst of circumstances can't grow to live successful lives?"
Then he cited Ms. Davis, as an example, saying she was the daughter of a "single mother. She was
a teenage mother herself. She managed to eventually graduate from Harvard Law School and serve in the Texas Senate.
"It is just unfortunate that she hasn't learned from her own example that every life must be given a chance to realize its full potential and that every life matters."
Ms. Davis released a statement that said Mr. Perry's statement was "without dignity and tarnishes the high office he holds. They are small words that reflect a dark and negative point of view. Our governor should reflect our Texas values. Sadly, Gov. Perry fails that test."
Ms. Davis, whose filibuster helped block the legislation and now has supporters urging her to challenge Mr. Perry i! n the next gubernatorial election, posted on Twitter.
Today, @GovernorPerry shamefully attacked me and my family, further exposing his belief that he knows what's best for Texas women.
According to the Dallas Morning News, Mr. Perry added to his remarks about Ms. Davis in an interview with reporters.
"I'm proud that she's been able to take advantage of her intellect and her hard work, but she didn't come from particularly good circumstances," the governor said. "What if her mom had said, 'I just can't o this. I don't want to do this.' At that particular point in time I think it becomes very personal for us."
Mr. Perry has called a special legislative session for July 1 to consider several bills, including legislation that would limit abortions after 20 weeks and would also impose new regulations on abortion clinics. Republican lawmakers tried unsuccessfully to overcome the filibuster by Ms. Davis on Tuesday night and vote on the bill before the session came to a close at midnight, amid loud jeers from large crowds in the gallery and hundreds of thousands of people watching online.
Opponents of the bill, which would give Texas some of the toughest rules on abortion in the nation, say that the new requirements would lead to the closure of most abortion clinics in the state.
But Mr. Perry said in his speech that the majority of Texas lawmakers "agree that any patient should have the expectation that facilities being used for a procedure are up to standard, and that, when the! re's an! emergency situation, they can receive the care they need."
On Monday, when the bill comes up for the vote, opponents are getting ready to fight it. On Twitter, Planned Parenthood promised a battle.
Gov. Perry's not done, but neither are we. RT this if you're still standing with TX women, & ready to keep fighting! http://t.co/MIHtTZ5uI8