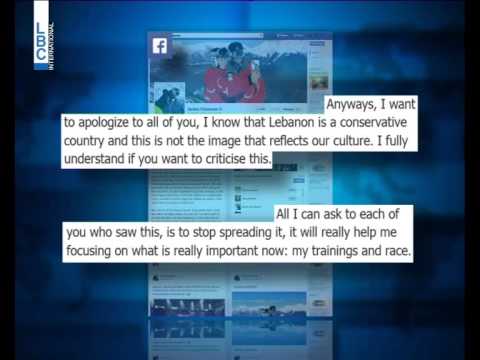 A report from LBC in Beirut on the threat to ban one of Lebanon's two Olympians, the skier Jackie Chamoun, from future games for her semi-nude modeling work.
Lebanon's fractured sense of national identity was on full display this week, as bloggers rallied online to defend the honor of a female Olympian, the skier Jackie Chamoun, accused by the country's sports minister of tarnishing the nation's image by posing for seminude photographs on the slopes outside Beirut.
As the blogger Abir Ghattas explained, the photographs of the young skier and a colleague, and a risqué promotional video for the calendar they were used in, were unknown in Lebanon until a television channel, Al Jadeed, published them on Monday under the headline, "Scandal â€" Lebanese Skiing Champions Are Nude Starlets!"
جاكي شمعون نجمة رزنامة تعرٍ تمثل لبنان في الألعاب الأولمبية الشتوية "سوتشي 2014″ http://t.co/8ztbkkk3iU … http://t.co/EkPQc88zsA

â€" قنـــاة الجـــديـــد (@ALJADEEDNEWS) 10 Feb 14
The next day, a Beirut night life magazine on the opposite end of the cultural spectrum posted a copy of the R-rated promotional video on its website, where it drew hundreds of thousands of views.
After Lebanon's acting sports minister, Faisal Karami, responded to the reports by calling on the nation's Olympic committee to investigate Ms. Chamoun for bringing Lebanon's reputation into low regard, liberals in Beirut and elsewhere rushed to defend the skier, suggesting that the country faced far more serious threats to its image.
Al Jadeed Breaking News: Woman has breasts and is choosing to do with them as she pleases, you know, because she is free and whatnot.
'Protect Lebanon's reputation' - haha. I'd rather see topless people all day than dead people on the streets. #JackieChamoun
So now Minister Karami wants to investigate Jackie's photos in fear of bad publicity for Lebanon?? What a ridiculous decision!! SHAME
The most outrageous patriarchal statement is that Minister Karami really believes he has an authority over Jackie's body. #lebanon
There're actually nitwits in Lebanon concerned a naked woman is bad publicity for the place? HAVE YOU WATCHED THE NEWS IN THE PAST 40 YEARS
Topless photos aren't what damage the country's image. State failure, lack of rule of law, sectarianism and suicide bombings do that.
It's shameful how this woman is posing naked and bringing #Lebanon's image into disrepute. Disgusting. http://t.co/5UhMOjzZf4
This is #NotAScandal. Leave the girl alone! #JackieChamoun #حرية
Lebanon=car bombs+militants galore+corruption but govt concerned abt damage done to country image by pics of 1/2 naked Leb skiier in #Sochi
In other news #JackieChamoun Facebook page, got verified today and also gained around 12000 new Fans #justsaying
What reputation? good @DailyStarLeb editorial on #Lebanon's misguided priorities. #JackieChamoun http://t.co/8aBJ69qkt9
Power to #Lebanon's women! Call on Minister Faisal Karami to drop investigation against #JackieChamoun: http://t.co/SNfetnKy4D
In other news, the backlash against the backlash against the backlash against the Lebanese skier has already started.
Messages attacking Ms. Chamoun, including some that included death threats, were also posted online, but most of what was written by Lebanon's English-speaking elite was supportive.
Although Ms. Chamoun tried to defuse the controversy with an apology posted on Facebook from Sochi, the debate over the issues exposed by the fracas â€" including anger at the local media's role in creating the scandal and the relative lack of attention paid to more serious issues, like terrorism and the physical abuse of women â€" ensured that it continued.
Post
by
Jackie Chamoun
.
As Nadine Kanaan observed in a column for the Beirut-based Al-Akhbar on Wednesday, it occurred to many Lebanese women that the plethora of local media reports damning, but showing, topless images of the young skier contrasted sharply with the relative silence in the some outlets over the case of another woman, Manal al-Assi, who was beaten to death recently in a domestic violence assault.
The media's approach to Jackie's story, the winds of chastity that suddenly blew and the frequent use of phrases like "tarnishing Lebanon's image" reveal one thing. Jackie did not undress herself, she undressed a troubled society that slept undisturbed after the scandal of Manal al-Assi - who was beaten to death by her husband last week - but suddenly woke up to cast stones at Jackie.
#Lebanon sure knows its priorities, not nearly as much outrage was expressed about Manal Assi. Jackie Shamoun is free to do what she wants.
This Lebanese lady was beaten 2 death by husband. Didnt bother #Lebanon officials. But skier posing nude does. Morons http://t.co/1Pipy3uiB9
What began as a series of outraged, sardonic reactions to the news online soon morphed into a social media campaign urging supporters of the skier to post seminude images of themselves on Twitter and Facebook, tagged #StripForJackie.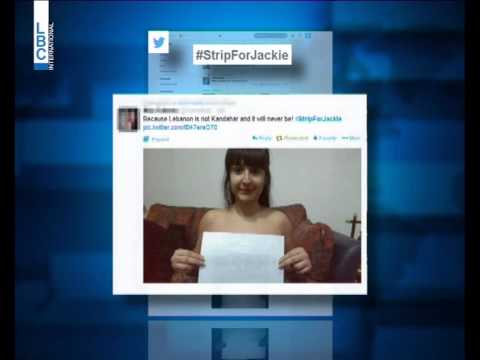 An Arabic-language video report on the social media campaign in support of the Lebanese skier Jackie Chamoun from LBC in Beirut.
Because Lebanon is not Kandahar and it will never be! #StripForJackie http://t.co/lB47ereQ70
As that subject began to trend locally, it even led a Lebanese beer company to spot an opportunity for some viral marketing, by posting an image of its product with its label removed.
ما تطلعوني من ثيابي!

#لبنان http://t.co/YUu3KljKRE
Political opponents of the sport minister, including Samy Gemayel, who represents the Maronite Christian Phalange party, Kataeb, in Parliament, joined the bandwagon on Wednesday, posting messages of support for Ms. Chamoun on social networks.
Focus on the race, and your supporters will deal with the rest #JackieChamoun @jackiechamoun http://t.co/JTf8CxeVTR http://t.co/jV2Mfls0rE
In an interview with NBC just two weeks ago, Ms. Chamoun was clearly unaware of just what she had let herself in for when she agreed to pose for the photographer Hubertus von Hohenlohe â€" a Mexican-born scion of German royals who is also skiing in this year's Olympics.
She said the photo shoot, on a slope in Faraya, outside Beirut, was a little "weird:" "I knew everybody at the ski resort. I knew all the skiers who were passing. I could see other skiers. I could see the parents of other skiers. I could see my coaches, everyone." But she said she was happy with the result: "I don't really care, though. I really enjoyed it and I don't regret it. I like these photos. I have no problem with it."
She also explained that not everyone in her home country would have been so understanding:
If we were somewhere else in Lebanon, in a public place, maybe they would have shot us. But we were on the slope in Faraya and it is an open space. The people who go there are people from Beirut who are open-minded, more international in their thinking, and also the jet-set of Lebanon, so it wasn't a problem there. It's really open there, like in Europe. In other places we could have been in really big trouble.
Robert Mackey also remixes the news on Twitter @robertmackey.