As our colleagues Lydia Polgreen, Nicholas Kulish and Alan Cowell reported on Tuesday from South Africa, leaders from all over the world joined tens of thousands of people in a Soweto soccer stadium to pay tribute to Nelson Mandela.
Here are some of the highlights from the memorial service, including notable moments, selfies, tweets, images and videos being shared around the world.
President Obama's speech was greeted with wild enthusiasm and frequent applause as he recalled Mr. Mandela, referring to him by his clan name, Madiba.
It took a man like Madiba to free not just the prisoner, but the jailer as well to show that you must trust others so that they may trust you; to teach that reconciliation is not a matter of ignoring a cruel past, but a means of confronting it with inclusion and generosity and truth. He changed laws, but he also changed hearts.

For the people of South Africa, for those he inspired around the globe, Madiba's passing is rightly a time of mourning, and a time to celebrate a heroic life. But I believe it should also prompt in each of us a time for self-reflection. With honesty, regardless of our station or our circumstance, we must ask: How well have I applied his lessons in my own life? It's a question I ask myself, as a man and as a president
Unlike Mr. Obama, South Africa's president, Jacob Zuma, was met with loud boos and jeers when he approached the lectern, prompting the memorial's organizers to turn up the volume on the music.
Boos so loud that they went to music and put Madiba's face back on the screen.
In his speech, Mr. Zuma said that Mr. Mandela was "one of a kind."
But with presidential elections coming in 2014, Mr. Zuma also noted that Mr. Mandela's party was not about one leader, and he emphasized that Mr. Mandela recognized that his achievements were a result of working together with the African National Congress. "Mandela believed in collective leadership," Mr. Zuma said.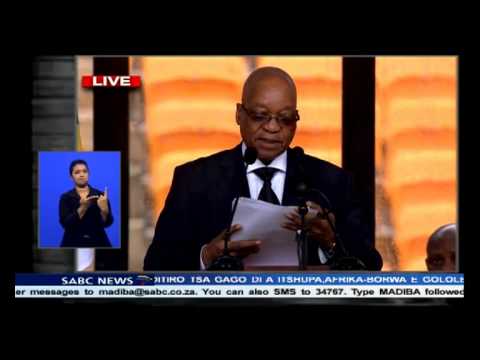 The crowd's reaction to South Africa's president prompted Archbishop Desmond M. Tutu to urge members of the audience to quiet down. "I want to show the world we can come out here and celebrate the life of an icon, you must show the world that we are disciplined. I want to hear a pin drop," said Mr. Tutu, who went on to describe the importance of Mr. Mandela to the country and the world.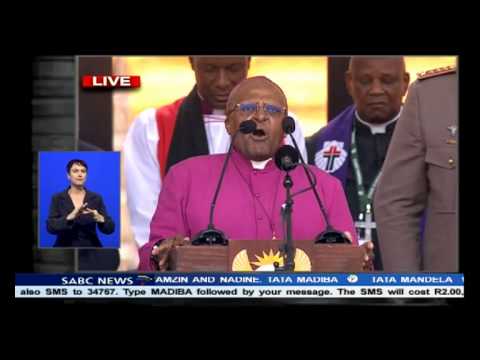 One of the most discussed moments online Tuesday, as my colleague Christine Hauser reported, followed images of President Obama shaking hands with Raúl Castro, president of Cuba and brother of Fidel Castro.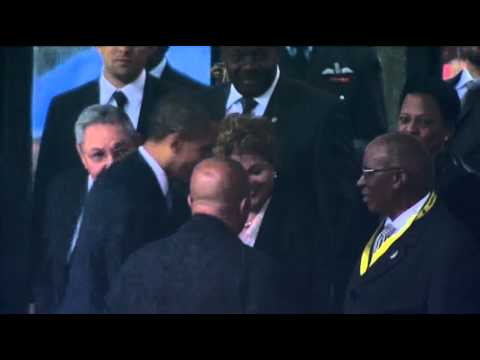 Lydia Polgreen, the South Africa bureau chief for The Times, posted on Twitter that the speech of Ban Ki-moon, the United Nations secretary general, went over well.
Sleeper star of the memorial today? Ban Ki-Moon. Speech was very well received.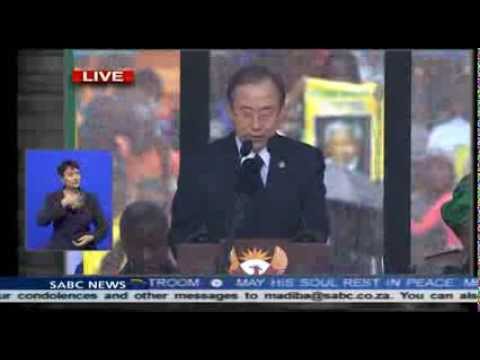 Driving rain meant that not all of the soccer stadium's 95,000 seats were filled. But the crowd included people from all over the world paying homage to the man who brought peace and an end to apartheid.
Khan Teyim of Cameroon waves a flag at the Nelson Mandela Memorial. http://t.co/awOYg2uBSU
Beyond the speeches, the rain and the handshake, online discussion focused on selfies that people took at the memorial service. So much so that a recently deactivated Tumblr blog dedicated to criticizing people who took selfies at funerals came back to life on Tuesday with a photo of President Obama and David Cameron, the prime minister of Britain, posing for a camera phone picture with Denmark's prime minister, Helle Thorning Schmidt.
Selfies at Funerals: World Leader Edition #MandelaMemorial #DeathOfCulture http://t.co/jd2lcfKduL
The first lady Michelle Obama did not join in as she continued to look at the world leaders paying tribute to Mr. Mandela.
On his Instagram account, former President George W. Bush shared a photo from his view in the stands that included Laura Bush, the former first lady, and the Clintons.
Mr. Bush also shared his version of a selfie with Bono.