kcentv.com - KCEN HD - Waco, Temple, and Killeen
As our colleagues, Manny Fernandez and Ashley Southall report, at least four people were killed and several others were injured in a shooting at the Fort Hood base in Texas about 5 p.m. Wednesday.
There was an initial report that a gunman was dead, but the report has not been confirmed, Fort Hood officials said in a statement. The base remained on lock down after 8 p.m. on Wednesday.
Auto-Refresh: ON Turn ON Refresh Now
Feed
Twitter
8:57 P.M.
Video from Fort Hood by Killeen Daily Herald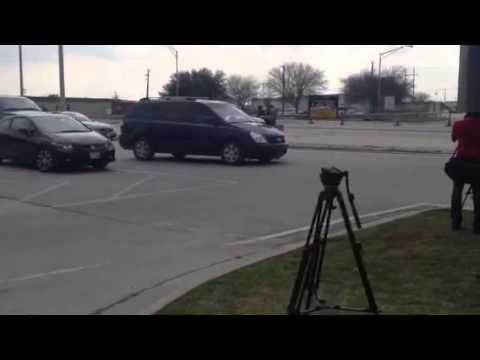 Video from the scene at Fort Hood by the Killeen Daily Herald
8:50 P.M.
At Least Four Dead, including Gunman, Congressman Says
Representative Michael McCaul, the chairman of the Committee on Homeland Security, said that as many as four people died in the attack, including the gunman.
On a conference call with reporters, Representative McCaul said authorities had identified the suspect as Ivan Lopez but a motive for the shooting remained unclear.
The shooter was wearing an Army uniform, but it was unclear whether he was on active duty, Mr. McCaul said.
He said that law enforcement authorities might have prevented a third shooting, prompting concern that the base is "becoming a target for potential jihadists."
8:45 P.M.
Live Video From Hospital News Conference
8:22 P.M.
President Obama Says He is 'Heartbroken' Over Shooting
President Obama described himself as "heartbroken" over the shooting at Fort Hood.
"Any shooting is troubling. Obviously this reopens the pain of what happened in Fort Hood five years ago."
"We're heartbroken that something like this might have happened again," he said.
He said that he hopes everyone across the country will keep the families and the community of Fort Hood in their prayers. The Army members at the base have given so much to protect our freedom, serving multiple tours in Iraq and Afghanistan, he said.
"When they're at their home base, they need to feel safe," he said.
He said we don't know what happened tonight, but their sense of safety has been broken again.
8:18 P.M.
Twitter updates from the Killeen Daily Herald
The Killeen Daily Herald, the local newspaper near Fort Hood, is posting regular updates on Twitter about the shooting.
Tweets by @kdhnews

8:17 P.M.
Official Statement from Fort Hood
Shooting incident at Fort Hood
UPDATE: Fort Hood's Directorate of Emergency Services has an initial report that a… http://t.co/0oWzNwdu0K
In the statement, officials said that there is a report the gunman is dead but that has not yet been confirmed. The statement also said:
The injured personnel are being transported to Carl R. Darnall Medical Center and other local hospitals. Numerous law enforcement agencies are in support and on the scene. The number of injured are not confirmed at this time. No further details are known at this time. There has been a shooting at Fort Hood and injuries are reported. Emergency crews are on the scene. No further details are known at this time.
8:08 P.M.
Fort Hood's Twitter Account Called for Shelter in Place
All personnel on post are asked to shelter in place.
8:08 P.M.
Local Television Coverage from Fort Hood
A local television station, KCEN-TV, is providing live coverage of the incident.