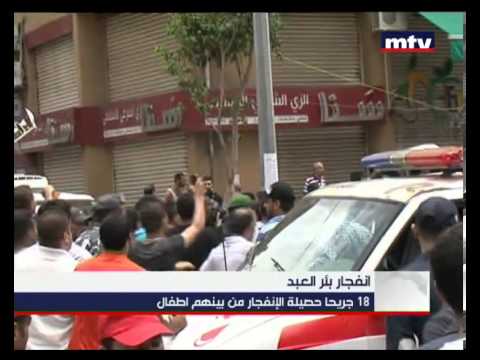 Video and photographs from journalists and witnesses in Lebanon showed the aftermath of a car bomb on Tuesday that struck Bir al-Abed in Beirut's southern suburbs, where Hezbollah has its offices and supporters.
As my colleague Anne Barnard reported, the bombing raised concerns of increasing spillover from the war in neighboring Syria. It came amid fears that Hezbollah, the powerful Shiite Muslim militant group and political party, would face attacks in response to its increased military intervention in support of Syria's president, Bashar al-Assad, against the two-year-old uprising challenging his rule.
Several observers said it reflected the tensions between Sunnis and Shiites that have flared domestically, like those recently in the port city of Sidon and in Tripoli, Lebanon.
Joyce Karam, a correspondent for Al Hayat, remarked on her Twitter account @Joyce_Karam that supporters of a radical Sunni cleric, Sheik Ahmad al-Assir, distributed candy in the streets of Lebanon, as Hezbollah fighters did recently after fierce fighting in a Syrian village, and she included a photograph.
Assir supporters in Tripoli #Lebanon celebrate Dahiye bombing,offer candy. Copying Hezbollah supporters after Quseyr http://t.co/LnFzvPCW9G
#Dahiyeh bombing: on eve of Ramadan, 2 weeks after Sidon clashes with Sunni extremists, amidst #Hezbollah continued involvement in #Syria
She used the word "dahiyeh," which is one way to transliterate the Arabic word loosely meaning suburbs.
Mr. Assir had been amassing weapons and threatening Shiites, giving voice to some of the Sunni anger over the dominance of Hezbollah and its decision to intervene militarily in Syria, as Ms. Barnard recently reported in an article about Sidon.
Nadim Houry of Human Rights Watch also remarked on reports of what appeared to be celebratory responses to the bombing.
Nauseating. Reports that gunfire and fireworks in Tripoli's Bab al-Tebbaneh 'celebrating' Dahiyeh explosion.#Lebanon
In its online report, The Daily Star posted video of the recovery efforts after the blast and reported that the Lebanese health minister, Ali Hasan Khalil, said 53 people were wounded, most of them lightly.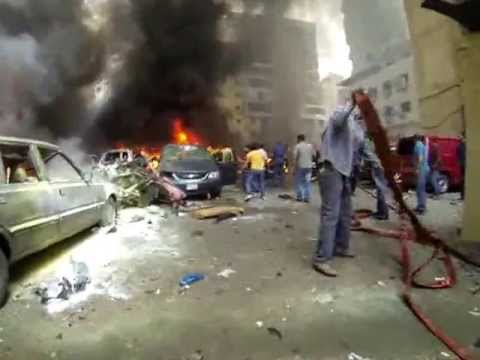 It was not immediately clear who was behind the blast, although a statement appeared on a Facebook page quoting a brigade of the Free Syrian Army as claiming responsibility in retaliation for Hezbollah's role in Syria's conflict.
PTs: Previous statements by "FSA Brigade 313″ have been questionable, so take this claim with some element of caution.
Infiltrating #Hezbollah's Beirut belt cannot be the work of amateurs. FSA fires rockets, but staging car bombing takes much more. #Lebanon
MTVLebanon News posted video on its Web site of protesters at the scene surging around the Lebanese interior minister, Marwan Charbel, and throwing objects at him as he then retreated, surrounded by security forces, amid the sound of erupting gunfire apparently meant to keep the crowd back.
Bassem Mroue, a reporter with The Associated Press, posted video on his Twitter account, @bmroue, of the minister's car moving through the throngs of people after he said it had been held up for about 45 minutes.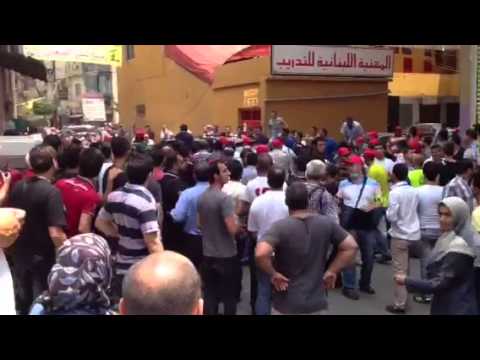 Entrance of building where interior minister Charbel was trapped #Beirut #Lebanon #بيروت #لبنان http://t.co/MRgYX18zmD
Man looks at his damaged shop near #Beirut blast #Lebanon http://t.co/GDj91FeZa5
Essam Sahmarani, a blogger, posted on his Twitter account @esahmarani photographs and video of the flaming aftermath of the bombing.
Ali Hashem, the chief correspondent for Al Mayadeen Network, posted a photograph on his Twitter account @alihashem_tv that showed the bomb blast wreckage on fire, and he also referred to the last time there was a car bomb explosion in the suburb, decades ago, apparently targeting a top Shiite cleric.
The first pictures of #Beirut southern suburb explosion http://t.co/8jHJRUa3X8
This is the first explosion in #Beer_Elabed since the 1985 explosion that was aimed at late cleric Sayyed #Fadlallah
The reference was to Sheik Mohammed Hussein Fadlallah, the spiritual leader of Hezbollah at the time. In the car bomb attack, which took place on March 8, 1985 and destroyed a building near the residence of the prominent Shiite clergyman, as The New York Times reported then. The death toll in the 1985 blast climbed to at least 80 people.