Israel's defense minister, Moshe Yaalon, denounced a campaign of attacks on Palestinian civilians and property by extremist Israeli settlers as "outright terror" on Wednesday, after two cars were set on fire with Molotov cocktails and Hebrew graffiti â€" reading "price tag" and "Esh Kodesh revenge" â€" was sprayed on the walls of a West Bank village.
The vandalism took place in early morning near the village of Qusra, in apparent retaliation for an incident there the day before, in which a group of young settlers was captured and beaten by Palestinians who caught them trespassing. Village elders, and a Palestinian field worker for the Jewish group Rabbis for Human Rights, then stepped in to protect the settlers and arranged for them to be escorted away by Israeli soldiers.
The Tel Aviv daily Israel Hayom reported that military sources "said the settlers, all known right-wing activists, entered the village with the clear intent of carrying out a 'price tag' attack." In recent years, extremists among the settler community have waged a campaign of revenge attacks whenever concessions were made by Israel to Palestinians in the occupied West Bank, and the Hebrew words for "price tag" are frequently spray-painted as a calling card.
As my colleague Isabel Kershner explained, the Israeli military said that the confrontation on Tuesday began after Israeli security forces removed an illegal structure in Esh Kodesh, an unauthorized Israeli settlement outpost in the northern West Bank.
Images of the battered young settlers being turned over to Israeli soldiers at a Qusra construction site used as a makeshift detention center by Palestinians amounted to "an unprecedented humiliation" for the far-right activists, the Israeli television journalist Roy Sharon observed Tuesday night.
the Palestinians called the Israeli army and gave them the settlers http://t.co/qmyEcnXXcF
Mr. Sharon, and the Haaretz journalist Chaim Levinson, pointed out on Twitter that one of the Israelis seen in photographs and video of the group whose price tag attack was pre-empted was Meir Ettinger, a grandson of the Brooklyn-born Rabbi Meir Kahane.
ז×" פעיל ×"ימין ×"וותיק מאיר ××˜×™× ×'ר, ×"× ×›×" של ×"ר×' כ×"× ×, ×"קות א×-רי ש×-טף מכות ×ž×¤×œ×¡×˜×™× ×™× ×'קוסרא. ת×' מ×-יר לת×' מ×-יר http://t.co/bR9k2bndoJ
one of injured settlers is the grandson of meir kahana. the grandson is also will known violent right wing activist http://t.co/IHn5RaABkd
Rabbi Kahane, who was elected to Israel's Parliament in 1984, had called for the expulsion of all Arabs and said that "Western democracy as we know it is incompatible with Zionism." He was assassinated in 1990, two years after his far-right political party, Kach, was banned by Israel's election committee because of its "Nazi-like," "racist" and "undemocratic positions."
His grandson, a resident of the West Bank settlement of Yitzhar, has previously been temporarily barred from the West Bank for allegedly spying on Israeli soldiers to prevent them from taking action to evict settlers from illegal outposts. Mr. Ettinger was also once detained while conducting research for a project called Hebrew Labor, whose goal was to map all of the businesses in Jerusalem that use Arab labor "to warn the public" against buying from them.
According to a translation from Israel Hayom, Mr. Yaalon, the Israeli defense minister, said on Wednesday: "The phenomenon called 'price-tag' is inherently wrong and I consider it outright terror. We are sparing no effort to find its perpetrators and we will show them zero tolerance."
"The State of Israel cannot permit itself to have phenomena of this kind emerge from within," he added. "We will not permit marginal, extreme and violent groups to take control by force of land that is not theirs, in violation of the law, or to threaten Palestinian residents who are working their land."
As the Israeli newspaper Haaretz reported, even Dani Dayan, a former chairman of the Yesha Council of Jewish settlements, denounced the "price tag" campaign on Wednesday. "I'm sick of the idiots who think that the Land of Israel is acquired through use of a club, a box of match and provocations," he wrote on Facebook. "I'm sick of Jewish masked hooligans, who harm soldiers, policemen and innocent Arabs. I'm sick of the irresponsible people who carry out acts of injustice and foolishness."
In a pointed rebuke to the rhetoric of the extremists, Mr. Dayan concluded: "It seems that there are good Arabs who are not dead Arabs. Arab hooligans have been bravely confronted by a group of good Arabs â€" good people â€" who prevented harm to Jews. Who will thank them as they deserve?"
The official commitment of Israeli's military, which administers justice in the occupied territories, to preventing attacks on Palestinians by settlers was undercut somewhat by a series of videos published on Wednesday by the Israeli rights group B'Tselem. The video recordings, apparently made on Monday in the West Bank by a resident of a Palestinian village near the settlement of Yitzhar, seemed to show masked Israeli settlers hurling rocks at a Palestinian school as uniformed soldiers stood next to them and made no move to stop them.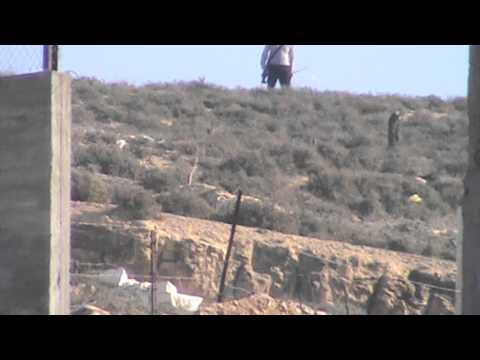 The settlers also reportedly destroyed part of a water reservoir for Palestinians being built with funds provided by the United States Agency for International Development.
According to the rights group: "The filmed record indicates that the military, which is required to defend Palestinians in the West Bank, in actual fact served as a security entourage for violent settlers. During the incident, the military backed the settlers in their assault on Palestinians and their property." The soldiers, B'Tselem said, did not intervene until "students at the school threw stones back at the settlers and the soldiers fired tear gas at the students."