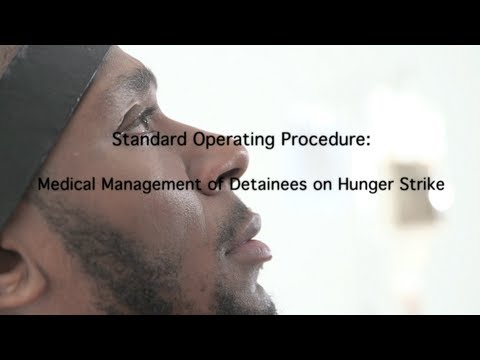 In an online video this week, the rapper and actor Yasiin Bey, also known as Mos Def, is shown in a baggy orange prison uniform with shackles around his wrists and ankles, and strapped into a medical chair.
What happens next is an attempt by the human-rights group Reprieve, to turn a spotlight on the controversial procedure by the United States military of force-feeding detainees on hunger strike at the prison at Guantánamo Bay, Cuba.
In the video, a slender feeding tube is lubricated and then inserted into Mr. Bey's right nostril by a person in medical scrubs wearing rubber gloves. Mr. Bey grimaces and struggles as the tube is pushed deeper. Moaning, he is physically restrained and pushed down by several men, as he arches his back to resist being held in the chair.
As the tube is withdrawn and then prepared for reinsertion, he gags and pleads: "It is me, please stop. I can't do it."
Since it was posted, the video has drawn about five million views on The Guardian's Web site and YouTube channel, according to the latest analytics provided by Reprieve in an e-mail statement on Wednesday. It has been viewed almost 100,000 times on Reprieve's own online channel.
But Army Lt. Col. Todd Breasseale, the Pentagon spokesman for Guantánamo policy, called the video "a clever bit of cause marketing by Reprieve and The Guardian," according to a Miami Herald article by Carol Rosenberg, who covers Guantánamo. "It doesn't comport with our procedures," he was quoted as saying.
The video was shot on June 15 this year in London and released on July 8, the same day that Judge Gladys Kessler of the Federal District Court for the District of Columbia, ruled that she had no power to order the military to refrain from force-feeding a detainee at the prison. Judge Kessler also wrote that it was "perfectly clear" that the procedure was "a painful, humiliating and degrading process," as my colleague Charlie Savage reported.
Lawyers are working with Reprieve on that case.
At just over four minutes long, about one minute and 30 seconds of the video is dedicated to the intubation, struggles and restraint of Mr. Bey, although a caption said the procedures can take two hours.
After he pleads for them to stop, Mr. Bey sobs into his hands and then speaks. He said, in part:
When the tube went in, the first part of it is not that bad, but then you get this burning. And then it starts to be like really unbearable. It feels like something is going into my brain. And it started to reach the back of my throat. I really couldn't take it.
According to the military, 45 detainees are "approved" for force-feedings if they refuse to eat, out of the 106 detainees participating in the hunger strike, Mr. Savage reported.
In a commentary published in Opinion section of The New York Times in April, one of the detainees represented by Reprieve lawyers, Samir Naji al Hasan Moqbel, described being force-fed after being on a hunger strike since Feb. 10.