1st flight of unarmed Unmanned Aerial Vehicles in DR Congo, help @MONUSCO fulfill mandate to protect civilians #DRC http://t.co/MVzOcFoZdb
The United Nations proudly announced the deployment of its first peacekeeping drone on Tuesday, an unmanned aerial vehicle that will be used to monitor the forested border between the Democratic Republic of Congo and Rwanda, looking for fighters from the defeated M23 rebel group and other militias.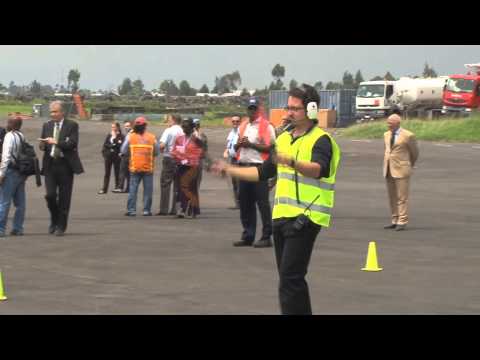 Hervé Ladsous, the United Nations under secretary general for peacekeeping, was present as the craft took off for the first time from an airport in Goma, the Congolese city that was recaptured from the rebels with the help of U.N. troops in recent months. As my colleagues Nicholas Kulish and Somini Sengupta reported, that more robust use of force around Goma has earned the international organization rare praise.
In his remarks, Mr. Ladsous was careful to stress that the drone would be used only for surveillance and would not be armed.
H.Ladsous: Les Drones ne sont pas des engins armés, il s'agit d'engins exclusivement destinés à la surveillance, observation & information.
As the former New York Times correspondent Howard French explained in an Op-Ed on the mission last month, the U.N. mission's new-found assertiveness came after years of less effective efforts to keep or enforce peace.
The passive, old approach involved nearly 20,000 peacekeepers who never managed to keep a lid on things, much less really keep any peace. When the M23 sacked Goma, the biggest city in the east, last year, the Congolese Army ran away and peacekeepers passively stood by.

Shock and embarrassment over this performance â€" in effect, a dismal return on the international community's investment â€" prompted a turnaround. Earlier this year, the United Nations brought in a tough-minded general from Brazil, Carlos Alberto dos Santos Cruz, to lead the peacekeepers. Their mandate changed to encourage engagement: That is, actually going after the bad guys. Meanwhile, motivated and disciplined combat units from South Africa and Tanzania were pushed to the fore.