IranWire, a website run by the Canadian-Iranian journalist Maziar Bahari, reports the unsurprising news that some officials in Tehran are not looking forward to seeing Jon Stewart's new film, "Rosewater," which was adapted from Mr. Bahari's memoir about living through Iran's disputed 2009 presidential election.
That much is clear because Iran's state broadcaster recently devoted nearly six minutes to attacking Mr. Stewart for "directing an ultra-formulaic movie commissioned by his masters" in "the Zionist lobby" telling "the story of the American-Israel sedition of 2009."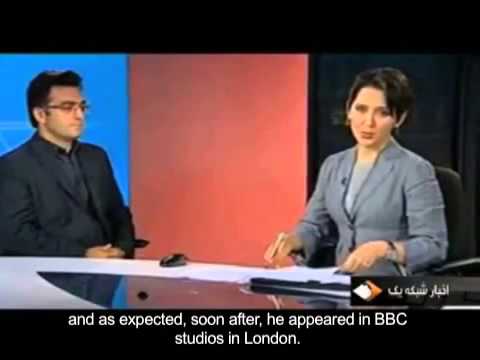 As longtime readers of The Lede might recall, one of the strangest parts of Mr. Bahari's account of the 118 days he spent in an Iranian jail after the election was that he was asked by his interrogator â€" a man he called Mr. Rosewater because of the cologne he wore â€" to explain his appearance in a fake news report filmed in Iran by a crew from Mr. Stewart's "Daily Show" in the run-up to the disputed election. The interrogator, Mr. Bahari said, simply could not understand what was funny about Mr. Stewart's cast members pretending to be real journalists in order to mock the absurdities of television news.
Even so, the "Daily Show" crew did discover during its visit in 2009 that Mr. Stewart had fans in Tehran, who watched the program on illicit satellite dishes and could even recite favorite bits from it.
It now appears that some of those fans may have finally infiltrated Iran's state broadcaster. The evidence of that is a video report broadcast recently on a state television program designed to appeal to young viewers. The report openly mocked the same network's main news channel for the clumsy way it had censored images of Catherine Ashton, the European Union's top foreign policy official, hugging male counterparts in Geneva last month at the conclusion of talks over Iran's nuclear program.
A YouTube copy of the mocking report was posted online this week, with English subtitles added, by @MeetIran, a Twitter feed generally devoted to promoting the country's new administration, which appears to be run from the circle around Foreign Minister Mohammad Javad Zarif.
#Exclusive: Funny Stuff. '#Ashton kisses' covered up in #IRIB live reporting. English subs. http://t.co/qt51JAhPJ5…
According to the BBC Persian correspondent Bahman Kalbasi, the clip was taken from "8:30 P.M.," a program broadcast at that time on the government-run Channel 2 that "has a reputation for taking more liberties in style." The brief example of in-house media criticism from state television drew attention to how producers of the network's Channel 1 reacted when, during its live broadcast from Geneva, the French foreign minister, Laurent Fabius, leaned in to kiss Ms. Ashton's cheek. Before Mr. Fabius's lips made contact, however, a sudden blur appeared on the screen, obscuring the kiss.
The footage of the broadcast preserved on YouTube shows that the blur around Ms. Ashton remained in place as first Secretary of State John Kerry and then Foreign Minister Sergey Lavrov of Russia followed suit. The picture cleared only when Iran's foreign minister, Mr. Zarif, stepped forward to congratulate Ms. Ashton from a safe distance, with his hands chastely clasped in front of him.
That there are fissures within Iran's government may come as a surprise to some casual observers, but as my colleague Thomas Erdbrink reported this week, while many Iranians welcomed the new opening to the outside world, hard-line conservatives who are unhappy about the interim nuclear deal, "pretend as if nothing has happened, taking to the friendly airwaves of state-run news media to reiterate their rigid anti-Western ideology and assure the public that nothing will come of the negotiations."
It was perhaps another sign of an Iranian glasnost that the video clip was not just broadcast on state television but was then also posted on a Twitter feed that appears to be run by associates of the foreign minister with the editorial comment "Funny Stuff."
Hours later, the link to the video was even retweeted by Ali Araghchi, a nephew of Iran's deputy foreign minister, who added the Internet shorthand for "laughing out loud."
Lol @JasminRamsey: @MeetIran Funny Stuff. '#Ashton kisses' covered up in #IRIB live reporting. http://t.co/FzOazl48Xp
Mr. Araghchi's Twitter timeline showed that he is close enough to his uncle to have accompanied him, the same day, to a meeting with the Dutch foreign minister, Frans Timmermans, at The Hague.
عراقچی با تیمرمانس وزیر امورخارجه هلند دیدار و درباره روابط دوجانبه، توافق ژنو، منطقه‌ای و بین‌المللی با وی گفتگو کرد http://t.co/uzHGi1ekd3