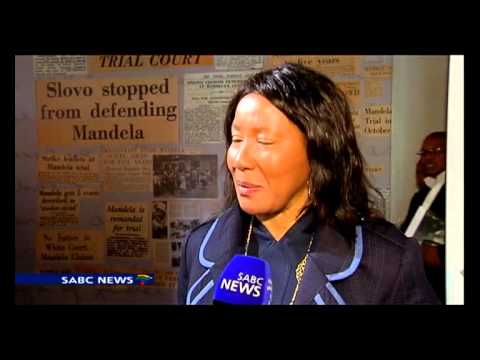 Nelson Mandela waged a long struggle against apartheid. And he is still fighting, this time for his life from what his oldest daughter is describing as his "deathbed."
Mr. Mandela, the 95-year-old iconic leader and South Africa's first black president, has been receiving medical care at his house in Johannesburg since being discharged from a hospital in September. He has been battling a lung infection since the spring.
On Dec. 3, the state-run South African Broadcasting Corporation released an interview with one of Mr. Mandela's daughters, Makaziwe, who gave an assessment of her father's condition, the details of which have been scant in much of the period since his health took a turn for the worse. For that reason, the brief interview with Ms. Mandela spurred stories in news media around the world.
Tata is still with us, very strong, as I said, very courageous. Even in lack of a better word on his "deathbed," I think he is still teaching us lessons; lessons in patience, lessons in love, lessons in tolerance. Every moment, every minute with Tata amazes me. There are times when I have to pinch myself that I come from this man who is so strong, who is a fighter, even when there are moments when he, you can see he is very strongly struggling, but the fighting spirit is still there with him.
Tata is the Xhosa word for grandfather, Mr. Mandela's clan's tongue, and a term of endearment to South Africans. Mr. Mandela's grandson, Ndaba, also spoke to the SABC at an event in the former president's honor: "He is still with us, although he is not doing well at home in bed."
Ms. Mandela was leaving an event for a book on Mr. Mandela's life called "The Nelson Mandela Opus." Mr. Mandela's wife, Graça Machel, and other family members were also at the event.
In another interview with the SABC in June, when Mr. Mandela was being treated in a hospital in Pretoria, it was the same daughter, Makaziwe, who said that her father "doesn't look good, I'm not going to lie," but added that the family remained hopeful that the former president might recover. She also compared the behavior of the news media waiting outside of the Mediclinic Heart Hospital at the time to scavenging birds of prey.
"It's like, truly, vultures, waiting when a lion has devoured the buffalo, waiting there to, you know, for the last carcasses. That's the image that we have as a family. And we don't mind the interest, but I just think it has gone overboard."