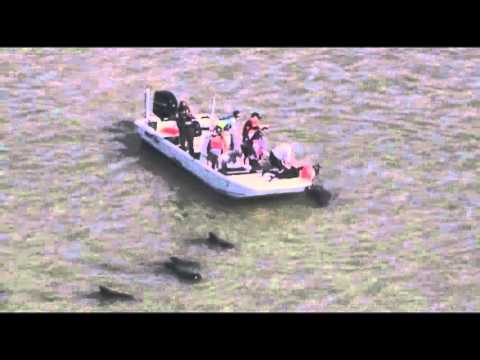 Ten pilot whales died as rescuers struggled to lead more than 40 others back to the Gulf of Mexico from the shallow waters of a remote part of Everglades National Park.
Some whales had beached when they were first spotted Tuesday afternoon. Six died on the sand, including several that were euthanized. Rescuers had tried to coax the whales back into the water.
Teams prep this morning to head out to pilot whale stranding - added people and boats to effort, 15 boats, 31 people to head out to scene
The Coast Guard and members of the Miami-Dade Police Department joined rescue crews Thursday morning, hoping to get the pod to swim several miles through the shallow waters into the gulf. But there is concern the whales may not make it. In addition to the challenge of swimming through waters with treacherous sand banks, pilot whales are reluctant to leave behind members of their pod, including the dead, scientists say.
"Pilot whales are a particularly cohesive species, which is why they tend to mass-strand," Blair Mase, the Southeast region marine stranding coordinator for the National Oceanic and Atmospheric Administration told The Miami Herald. "There may be members of their group that are ill and beach themselves, and the other whales stick with the pod and remain in the area."
It is not known how long the pilot whales, a deep water species, have been out of the natural habitat and they may be suffering from a lack of food and dehydration. The long, thin whales weigh about three tons and measure about 12 feet to 20 feet long.
Marine scientists are trying to manage expectations about what could be a sad outcome.
Latest from Everglades - most mass whale strandings don't have happy endings, to spite best efforts success rates for survival are low
The last mass stranding of pilot whales took place in 2012 in Fort Pierce, Fla., when 21 whales beached. Five were saved.