Patrick Ward/Corbis
As Britain braced for the worst tidal surge in more than half a century, the massive steel barriers that protect London were being shut to save the capital from the possibility of deadly and damaging floods.
By Thursday evening in Scotland and across the North Sea to Scandinavia and Germany, high winds and increasingly inclement weather were already being blamed for several deaths and disruptions to travel and transportation. The eight-kilometer-long (five-mile) bridge between Denmark and Sweden was closed.
Phil Noble/Reuters
British authorities evacuated coastal towns in eastern England, and airlines canceled flights into airports in the Netherlands and Germany.
The BBC was live-blogging the weather and posted videos on YouTube showing the damage the storm had wrought so far.
The Environment Agency, the British government department responsible for maintaining public safety against floods, announced earlier in the day that it would close the Thames Barrier, one of the largest movable flood barriers in the world, according to the agency, which maintains the Thames Barrier as well as London's other flood defenses.
The barrier spans 520 meters, or nearly a third of a mile, across the River Thames near Woolwich, Greenwich. It protects nearly 50 square miles of central London from flooding caused by tidal surges, according to the agency.
"It became operational in 1982 and has 10 steel gates that can be raised into position across the River Thames," the agency said. "When raised, the main gates stand as high as a five-story building and as wide as the opening of Tower Bridge." Each main gate weighs 3,300 tons, it said.
By Thursday evening, the storm was flooding parts of the port of Hamburg, Germany. The storm has been called Xaver in Germany, where markets across the country were being shut down. In Holland, the Dutch tied down boats in harbors. And Euronews showed video of the storm as North Germany and Belgium prepared for its impact.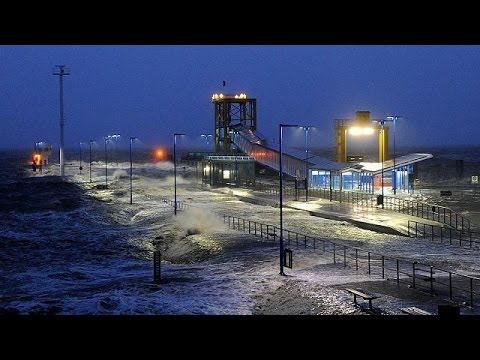 The storm was packing gusts of up to 228 kilometers per hour (142 miles per hour). The hurricane-force winds caused power cuts in Scotland and threatened costal flooding in England as they closed on northern Europe in what meteorologists said could be one of the most powerful storms to hit the continent in years.
Axel Heimken/DPA, via Agence France-Presse â€" Getty Images
At least one death in Scotland was blamed on the storm after a truck driver was reportedly killed when his vehicle was blown onto cars near Edinburgh. Scotland suspended train service, and Glasgow's central train station was evacuated after debris smashed through parts of the roof.