Video recorded this week during the arrest of gay rights activists in Moscow shows what Russia's legal ban on "propaganda for nontraditional sexual relationships" looks like in practice.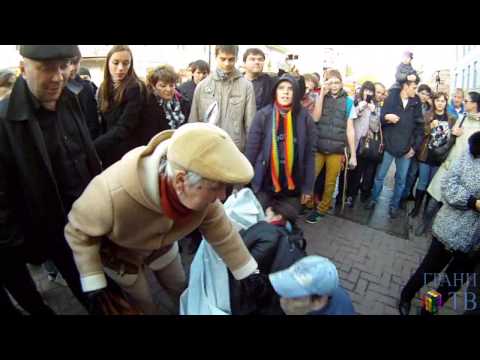 The raw footage, accompanying a report from the independent Russian news site Grani, shows police officers arresting activists as they marched through the Russian capital's Arbat district on Sunday, chanting and carrying a banner that read: "Hitler Also Began With the Gays. No to Fascism in Russia." The activists also chanted against legal moves to take children away from gay parents.
The video also captures the response of some bystanders, who initially intervened to prevent the police officers from using excessive force, before discovering what the protest was about. The clip is not subtitled, but the intervention of the bystanders begins when an older woman steps in and tells the officers, "You can't act like that."
She then turns to a man behind her and says, "Hey man, help out."
The man, wearing a black hat and a leather jacket, then says: "Major. Officer. What did they do?"
A short time later, as the confusion continues, a female protester in a black jacket and a rainbow scarf explains to the woman and an officer, "We are protecting the rights of L.G.B.T."
The officer asks, "What's that?"
The protester replies, "Lesbians, gays, bisexuals, transgenders."
The older woman asks, "You're for them?"
The protester says, "We're for them."
The older woman says: "Ohhhhhhhh no. Then no."
The protester responds, "Hitler started with the gays."
The older woman says, "This is the decline of morality."
At a later stage, as a male protester in a blue hat is being pushed into a police car, he shouts, "What law have I violated?"
The officer answers simply, "19," referring to the law on following police orders.
A female bystander asks, "What did they do to you?"
The male protester says, "Now they're going to hit me!"
After the police bundle him into the car, an officer says to the female bystander, "We warned him."