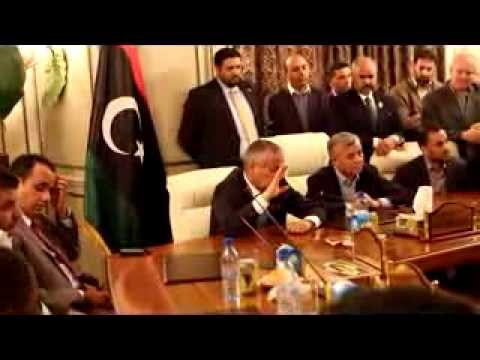 The Libyan government released video footage showing the prime minister, Ali Zeidan, speaking to fellow cabinet members and officials after his release on Thursday from a kidnapping that took place before dawn at a hotel in the capital, Tripoli.
In his remarks, Mr. Zeidan said that a Libyan state would "rise, positive, seeking the good and seeking peace and seeking reform, and looking to achieve everything that humanity describes as good."

He thanked the army, the chief of staff, and the police forces, as well as the guards who dealt with the situation, and he went out of his way to assure foreigners that they were not targets.
"I also salute the revolutionaries, who had a great role â€" the real revolutionaries, who rise above greed. I salute them for the role they had in this, and I hope that they would be a part of the state, and have an effective role through its civil and military institutions."
He added, "I hope that we deal with this situation wisely, using our brains, away from worries and magnifying the situation, and we try to mend what we can."
A Libyan television broadcast showed the prime minister shortly after he was released. In what were described as the "first pictures" of him, the news announcer says he was surrounded by a heavy accompaniment of security forces to usher him into the prime minister's headquarters.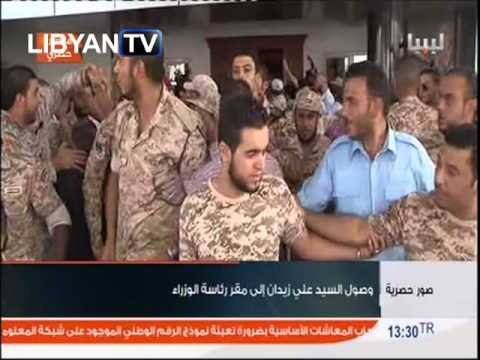 Mr. Zeidan was abducted by members of one of the semiautonomous militias that serve as his government's primary police and security force, according to statements from the prime minister's office and a coalition of militia leaders.
As my colleagues David D. Kirkpatrick and Gerry Mullany reported, the kidnapping was an apparent act of retaliation for his presumed consent to the capture of a suspected Qaeda leader by an American commando team.
A spokesman for the coalition, which calls itself the Operations Room of Libya's Revolutionaries, said the prime minister's "arrest" came after a statement by Secretary of State John Kerry that "the Libyan government was aware of the operation" that captured the suspected Qaeda leader, Reuters reported.
On their Facebook page, the coalition posted a photograph of Mr. Zeidan in detention, an image soon picked up by Arabic and international news organizations.
Al Arabiya English, on its Twitter account @AlArabiya_Eng, posted the photograph of Mr. Zeidan during the detention.
Official: Seized #Libya PM in good health, treated well http://t.co/UvVLBrymm8 http://t.co/XJAQ17sYlG
In its television report on the kidnapping, the BBC interviewed the head of security at the Corinthian Hotel, where Mr. Zeidan resided for security reasons, who said that men came to the building with an order from the prosecutor general for his arrest. They arrived at the hotel with a large number of vehicles emblazoned with the name of the group.
Suliman Ali Zway contributed reporting from Tripoli, Libya.