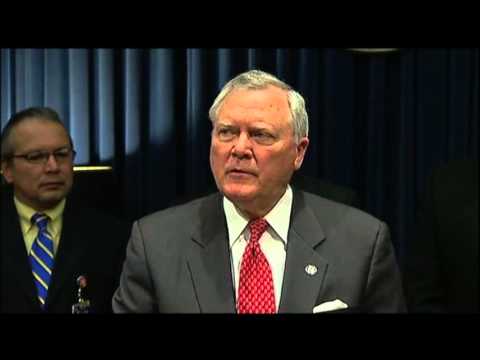 Georgia Gov. Nathan Deal issued a state of emergency Monday for an upcoming winter storm.
After harsh criticism for the slow response to the ice and snow that paralyzed the Atlanta metropolitan area for days last month, Gov. Nathan Deal of Georgia issued a state of emergency on Monday, a day before a winter storm was expected to hit.
"We are not looking back, we are looking forward," Governor Deal said as he canceled schools and urged people to stay off the roads in about a third of the state as weather officials projected a significant ice storm moving into the area Tuesday. "We want to make sure that we are as prepared as possible."
2 areas of sig. ice possible next few days, if u live in these areas prepare NOW for possibile power outages! http://t.co/C8bVepAjqR
Meanwhile, more than 13,000 Philadelphia Electric Company customers, mostly in the suburbs outside of Philadelphia, were still without power on Monday, six days after an ice storm downed hundreds of power lines and trees in what officials said was the second-worst storm in the utility's history, after only Hurricane Sandy.
Damage from storm so severe in some cases entire portions of our system need to be completely rebuilt causing the lengthy repair work.
Ben Armstrong, a spokesman for the Philadelphia Electric Company, said that Chester County, Pa., was the hardest hit part of the region, with 5,500 customers still without service on Monday. About 3,500 others in Montgomery County and 2,000 in Bucks County were also without power.
A map from the utility shows area by area where power is out.
County emergency management officials were urging people to go to warming centers and shelters set up by the American Red Cross, with temperatures expected to fall another eight degrees tonight.
Mr. Armstrong said 850,000 customers had lost power from Hurricane Sandy. With last week's ice storm, he said, 715,000 customers lost power. Nearly 6,000 utility workers from around the country were in Pennsylvania trying to bring power back on line.
He said that PECO hoped to restore power to all customers within the next day. With Hurricane Sandy, the last customer was restored on the eighth day, he said.
In Georgia, Governor Deal urged people: "Please use your own best judgment. Do not put yourself or your family in jeopardy."
During the storm on Jan. 28, thousands of people were stranded, from motorists stuck on ice-covered clogged interstate highways to elementary school students who slept overnight on gym mats. Some people abandoned their cars and spent the night in local supermarkets and Home Depot stores.
"We are making every effort to be prepare for this event," Mr. Deal said.