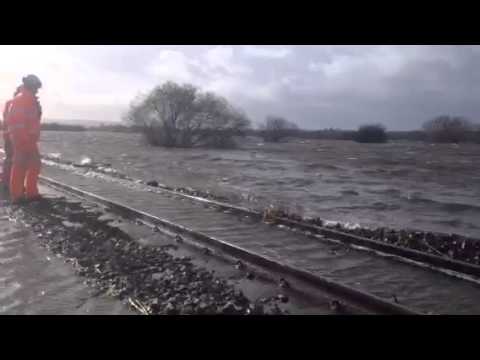 Flooded railroad tracks in Somerset in Southwest England Feb. 8 in this video recorded by Britain's Network Rail.
Video and other images shared online highlighted just how dire the flooding has become in England. Rivers are bursting their banks, railroad tracks are swamped and thousands of people have been stranded by flooding, particularly in southern England, over the past month.
My colleague Katrin Bennhold, who has been tracking the rising floods over the past week and the official response, has reported it was the wettest January on record, and Dorset and Somerset counties have been among the worst hit.
Britain's Network Rail, which owns and operates the rail infrastructure, posted footage on its website of the floodwaters from the 37-mile-long River Parrett submerging the tracks at Bridgewater in Somerset.
But as Ms. Bennhold wrote on Monday, the political tide is rising, too, as flood warnings are moving up the Thames closer to London.
Thousands of residents along the 215-mile Thames, the longest river in England, have been told to prepare for significant flooding as some areas were evacuated. The Thames Barrier, designed to protect London from a North Sea surge, was shut on Sunday to protect properties along the river from flooding.
Officials are trading charges about who to blame for Britain's lack of preparedness for the ongoing flood crisis. Efforts to address the problems are being circulated on Twitter.
Prime Minister David Cameron began a tour of affected areas in Portland, Dorset.
The Prime Minister meets locals at the Cove Inn, Portland as part of his flooding crisis tour of the South West http://t.co/3IibMpBYwz
On his Twitter account, @David_Cameron, Mr. Cameron posted a series of images showing him in meetings with emergency workers â€" but critics have accused him of reducing such staffing.
Meeting firemen who have been helping the clear-up after serious flooding at Goodings Farm in Somerset. http://t.co/c0JthCvhLt
@David_Cameron Have you fessed up to slashing flood defence budget by 41% and @EnvAgency lost 1500 staff? Against advice! Sorry now?
The Thames Valley law enforcement authorities kept residents informed of the dangers of the rising waters, while the government's Environment Agency shared images showing efforts to barricade residential areas to keep them from being inundated.
16 severe flood warnings (danger to life) and 133 flood warnings in place. All our warnings here: http://t.co/AejGrD91zs Stay #floodaware
#bewdley defences keeping 300 homes & businesses dry for a week. Photo gives idea how deep flooding would be http://t.co/46aH5YiVUj
#Worcester sunset River remains very high and levels fairly stable at the moment. Rise expected again tomorrow http://t.co/H2IJ1H4Qhy
Police have declared the flooding situation in Thames Valley a Major Incident and continue to work with partners to help local communities.
But citizens and local residents voiced alarm and frustration in social media and online. Channel 4 News released a series of videos on Monday showing residents bemoaning the lack of practical advice as to what to do as they watched the water levels creep higher. Some took to boats and sandbags.
One Walton resident along the Thames said the Environment Agency website told residents there was a flood warning but gave "no real idea as to what is going to happen."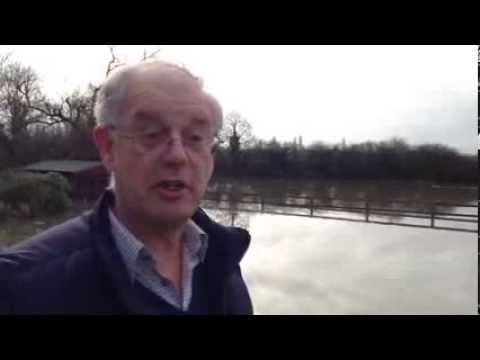 Channel 4 News interviewed a Walton resident on Feb. 10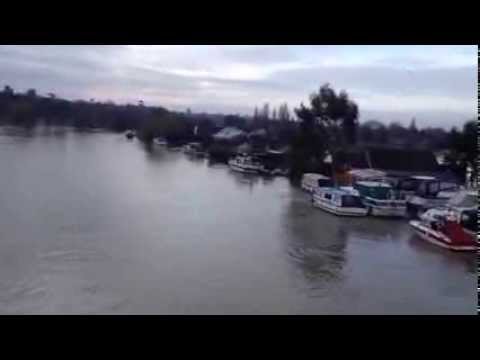 Channel 4 News footage of Walton-on-Thames, now "Walton-under-Thames."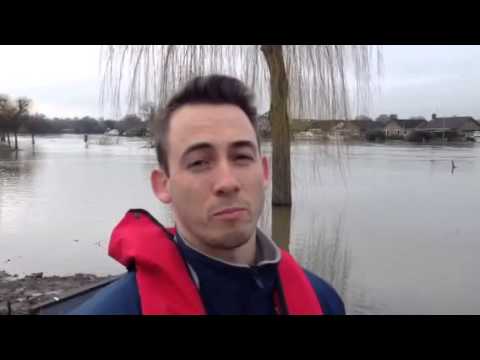 One resident along the Thames in Berkshire and Surrey said pontoons were overwhelmed and there was nine inches of water in the building where he works.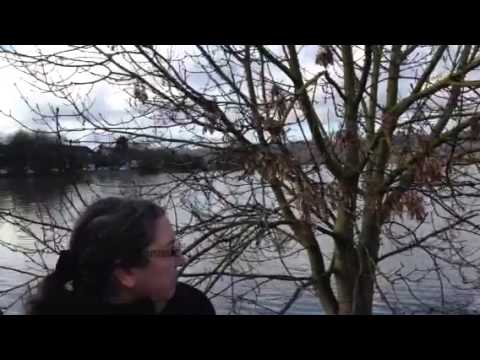 Channel 4 News interviewed residents along the Thames who said water had risen about 14 inches in 24 hours, as they surveyed an area where houses had been evacuated.
Residents denounced the lack of official response in some areas, and suggested on social media that class and politics were factors in how emergency help was being dispatched.
All those posh houses flooding in the Thames Valley, I so hope they're Cameron's friends. #floods
I wonder if now the upper classes are being flooded Cameron will act quicker? #Thames
#floods #UK is becoming #Tory's #Katrina and they are doing a disastrous job.
Fatima Manji, a reporter for Channel 4 News, said on her Twitter account that some residents in Berkshire had complained that the animal rescuers were the only help they had been offered.
Volunteers in Wraysbury Berkshire say they're worried about looting of flooded empty homes, calls to police not making a difference. #c4news
Wraysbury in Berkshire - residents don't know how much worse flooding will get, frustrated at lack of info +help - volunteers running rescue
People using canoe boats to get out of homes in Wraysbury Berkshire #c4news #ukfloods http://t.co/MyfkDd8mgU
Follow Christine Hauser on Twitter @christineNYT.