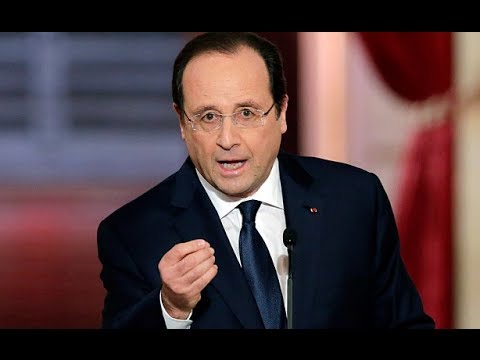 PARIS â€" The famously libertine French have long professed Gallic indifference over the sexual peccadilloes of their elected officials.
In 1899, Félix Faure died from apoplexy while having sex with his mistress at the Élysée Palace. Nicolas Sarkozy and Jacques Chirac both had affairs. The former Socialist President François Mitterand had a daughter with his mistress and supported them at the taxpayers' expense.
But the current frenzy of interest created by the apparent liaison between President François Hollande and a lithesome actress, Julie Gayet â€" and the hospitalization of Valérie Trierweiler, his current partner, apparently due to shock â€" have laid bare that the vaunted privacy of a French president is an illusion.
The French have dissected every detail, including whether a post-tryst breakfast brought to the President by one of his body guards was croissants or pains au chocolat. Perhaps it is a sign that the French still remain decidedly French that some analysts here have suggested that if Mr. Hollande's image has been sullied, it is not because he had an affair, but because he was stupid enough to get caught.
Politicians across France's ideological spectrum have refused to condemn him, perhaps for fear their own improprieties will be scrutinized. On Wednesday, those on the hard left of his Socialist Party seemed far more perturbed by his plans to cut public spending and slash taxes for business.
Yet the country remains riveted. Mr. Hollande hid behind an oversized motorcycle helmet as he was chauffeured to Ms. Gayet's apartment on a three-wheel motorbike. But apparently, his ruse was discovered by the French gossip magazine Closer after a reporter recognized his shoes and claimed they were the same pair he had worn on a trip to Saudi Arabia the previous day. Ms. Gayet, 41, is a married mother of two. In her most recent film role, she played a seductive diplomatic adviser at the French foreign ministry.
On Wednesday, as the scandal continued to reverberate across the country, France's culture ministry rejected Ms. Gayet's nomination for a coveted spot at the Villa Medicis, a prestigious French cultural institution in Rome, without giving a reason. Meanwhile, Ms. Gayet threatened to take legal action against Closer for publishing the photos of her supposed liaison with the president.
The escalation of Mr. Hollande's personal travails coincided with an important policy speech on the French economy Tuesday night that was wholly overshadowed by the affair. Asked whether Ms. Treierweiler was still the First Lady, he declined to give a clear answer. "Everyone in his personal life can go through difficult periods; this is the case for us. These are painful moments," he responded.
The affair has captured the imaginations of the local and international media, inspiring a mix of sympathy, schadenfreude, moral rectitude and humor.
In mock Franglais, Britain's Daily Telegraph noted that Mr. Hollande "est dans un spot de bother. Il est dans un pickle." Yet it also observed that his popularity ratings had paradoxically gone up. "Et les français, apparently, ne care pas about les affaires steamy."
Le Monde reported Wednesday that Mr. Hollande appeared unannounced at an impromptu gathering of half a dozen journalists after his speech on Tuesday. As reporters downed mojitos and gin and tonics in the office of his political adviser at the Elysée, the office of the President, the paper said Mr. Hollande displayed a remarkable resilience, and even "bonhomie" with reporters. It said that political and personal adversity had brought him a surprising serenity. Love, perhaps?
There has been little peace of mind for Ms. Treierweiler, the ostensible First Lady, a journalist for whom he left Ségolène Royal, a fellow Socialist politician and the mother of his four children. Mr. Hollande said Tuesday he would elaborate on Ms. Treierweiler's future role ahead of an official trip to Washington next month. One Socialist member of parliament, François Rebsamen, said this week that the affair showed that the very notion of a First Lady was an anachronism. "There is no longer a First Lady in France â€" these practices are outdated, passé and should be banned," he told RTL radio.
Closer magazine reported Wednesday that Ms. Trierweiller, hospitalized since last week, had nevertheless managed to deliver her latest installment for a literary diary she writes for the magazine Paris Match. In it, she quoted a leading French author, Andreï Makine, saying "There is no deadly poison worse than indifference."