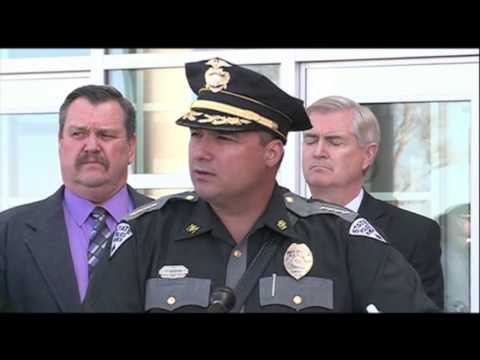 The head of the state police in New Mexico said Wednesday that the 12-year-old suspect in the shooting at a Roswell middle school had planned the attack but chose his victims at random. Two students, an 11-year-old boy and a 13-year-old girl, were seriously wounded after they were shot inside the school's gym around 8 a.m. Tuesday.
John Masterston, an eighth-grade social studies teacher, approached the suspect after the shots were fired and told him to put the gun down. The boy complied and Mr. Masterston grabbed him until the police arrived while teachers and staff members followed the active-shooter drills they had recently practiced and herded students into locked classrooms, officials said at a news conference.
Roberto Rosales/Albuquerque Journal, via Associated Press
Mr. Masterson "stood there and allowed the gun to be pointed right at him so there would be no more young kids hurt," Gov. Susana Martinez told 1,500 people at a prayer vigil in Roswell late Tuesday.
Tom Burris, superintendent for the Roswell Independent School District, said the gym was full of students when the shots rang out. "The teachers were incredible," he said. "We have done critical incident training. When this incident happened, they did what they were taught to do." He said that everything worked as the district had planned and practiced but had hoped would never be needed.
Chief Pete Kassetas of the state police said the suspect, now being held in a facility in Albuquerque, might have warned friends to stay away from school on Tuesday as he made his way there, carrying a sawed-off shotgun in a duffel bag. Mr. Kassetas said that the suspect was believed to have modified a 20-gauge shotgun that belonged to family members.
Mr. Kassetas would not discuss a possible motive for the shooting or what evidence law enforcement officers found in the suspect's locker, duffel bag and home.
Roberto Rosales/Albuquerque Journal, via Associated Press
As my colleague Fernanda Santos reported, the victims were flown to University Medical Center in Lubbock, Tex., 170 miles east of Roswell.
Officials said the 13-year-old girl, Kendal Sanders, had been shot in the shoulder and would be hospitalized for another week. The 11-year-old boy remained in serious condition, with injuries to his face and neck. His family has requested that his name not be publicly released.
At Berrendo Middle School, the suspect was described as smart and bookish, Ms. Santos reported. On Facebook, he was pictured beside a deer he had killed during a hunting trip. Laura Folts, 13, an eighth grader at Berrendo who worked as an aide to the boy's second-period language arts teacher, said in an interview that he was "really smart, nice with everyone."