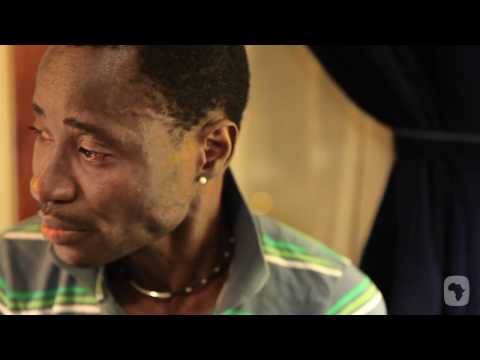 Homosexual sex is illegal in Nigeria, where in some states ruled by Islamic law gay people can be legally stoned to death. Still, the government in recent weeks has decided to crack down on gay Nigerians both harshly and in secret, arresting dozens of suspected gay men in the country's north and signing into law a sweeping measure that punishes gay marriage and even the formation of gay associations or clubs with as many as 14 years in prison.
News of the country's strict new antigay law, called the Same Sex Marriage Prohibition Act, was reported on Monday by The Associated Press, which said that its passage had been "shrouded in secrecy." A copy of the law obtained by The A.P. was signed and dated by President Goodluck Jonathan on Jan. 7 and had been signed and dated by lawmakers nearly a month earlier, on Dec. 17. Neither the president's office nor the National Assembly was known to be considering the measure, and neither made an announcement to mark its passage.
On Tuesday, The Associated Press reported that the police in the northern state of Bauchi had arrested 38 suspected gay men since Dec. 25. The report said the police appeared to be working from a list of 168 suspects whose names they obtained after they reportedly entrapped and arrested four gay men several weeks earlier and tortured them into naming other gay people they knew in the area. The report was attributed to two human rights organizations in the state as well as the government body that implements Islamic law in the area, which said that 11 arrests had been made in the last two weeks but denied the use of torture.

Dorothy Aken'Ova, the executive director of Nigeria's International Center for Reproductive Health and Sexual Rights, who was quoted in The Associated Press article on the arrests in Bauchi, described the campaign of entrapment and arrest in an interview with the English-language service of Radio France International on Tuesday. She accused the police in the state of entrapping gay men and then holding out the empty promise of release from prison to extort money from their family and friends. "Even after having extorted them, they have not released the people," she said.
President Jonathan has not publicly expressed his opinions on homosexuality, according to The Associated Press, but a spokesman, Reuben Abati, said that he had heard of no Nigerian objection to a law that he described as "in line with the people's cultural and religious inclination. So it is a law that is a reflection of the beliefs and orientation of Nigerian people."
Online, some Nigerians expressed support for the measure, citing religious conviction that homosexuality is "wrong" or "Satanic" or, in an echo of claims once made by the former Iranian president Mahmoud Ahmadinejad, the belief that gay people are just not part of Nigeria.
I Support GEJ for signing #Nigeria anti gay law.#say no to Gay!Gay is wrong! Gay is abnormal! Gay is inhuman! Gay is Evil#Gay is antiAfrica
Gay is Wrong. We as Nigeria Collective support d#AntiGayLaw#its a satanic mutation that wants to alter reproduction n existence of humans.
@UNrightswire Homosexualism is not our way of life. And anything that is against our way of life is simple against our basic human right
As for this gay matter, homosexuality is wrong. End of story. Call a spade exactly what it is. A spade
…signing the anti-gay bill is a perfect move to uphold our moral values, gay is a habit that can be corrected… http://t.co/yOWqVilmpg
But supporters of the law were not the only ones expressing themselves on social media, where gay Nigerians and their supporters were expressing concern and outrage within the relative safety of the Internet.
One of the most outspoken appeared to be Bisi Alimi, a gay rights activist who became well known in Nigeria in 2004 when he came out on national television, an episode he described in a video produced by None on Record, a media project devoted to addressing issues of relevance to lesbian, gay, bisexual and transgender Africans. The live talk show on which Mr. Alimi appeared was canceled after his announcement, and he eventually fled to Britain after facing a violent attack in his home. In a series of updates posted to Twitter, Mr. Alimi reacted with alarm to the news of the law and reports of arrests in the country's north.
Maybe its time to have adult intelligent conversation around human sexuality in #Nigeria. Let hear both sides speak. #No28in9ja #LGBT
First possible causality, got a call from some1 in #Nigeria hiding now cos ppl came to his house. They accused him of being #gay #No28in9ja
#Nigeria #LGBT ppl, if ur sexuality is known around ur area, you might want to move out for some time. People are being targeted #No28in9ja
Why has the presidency not issued a statement in the last 24hrs as regards this law? Why the silence? #Nigeria #LGBT #No28in9ja
In view of @AP report, if u are #LGBT in #Nigeria & feel u are in danger, please call these numbers 07011472241; 08146337128. #No28in9ja RT
In Nigeria and across Africa, Twitter users joined Mr. Alimi in criticizing the Nigerian government's burgeoning antigay crackdown, with some attacking President Jonathan for focusing on stopping gay marriage â€" a political impossibility in Nigeria â€" instead of tackling more pressing problems like poverty and underdevelopment.
To cancel a natural act like homosexuality is like to make a law to stop the sun from shining or the wind from blowing No28in9ja
Sigh. You keep after our gay brothers and sisters, African governments. That'll help with water scarcity, political corruption, all the war
14 years in jail for being Gay? In 2014? Nigeria is taking giant steps backwards
When the police enter your house, arrest you for no reason, torture you to confess you are gay, you'll understand how crazy this law is.
There's no power to charge my phone yet the Govt is talking about gay marriage. Toh!
I read where God condemns gay in the bible, he also condemned most of d tins we do in d same place! Let he without sin cast d 1st stone!