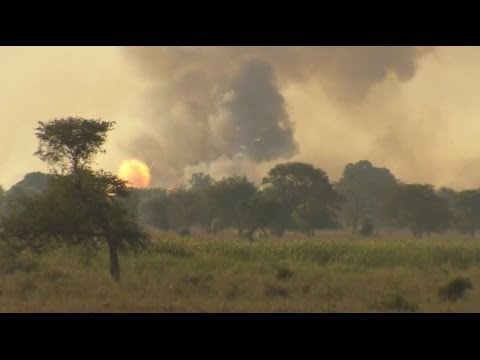 Reporting from South Sudan on Friday, the BBC correspondent Alastair Leithead discovered that civilians taking refuge from fighting at a United Nations base outside the town of Bentiu were being segregated along ethnic lines by the peacekeepers.
One image from the video report filed by the BBC News crew, showing a hand-painted sign directing members of the Dinka and the Nuer tribes to opposite sides of the camp, caught the attention of Alun McDonald, an Oxfam media officer who has worked with refugees in South Sudan.
Most depressing photo of the day - a sign at UN camp in South Sudan separates Dinka and Nuer as they arrive http://t.co/sGdhbrL1jE
According to Mr. Leithead, civilians from both tribes have been forced to seek safety as the fighting raged between forces loyal to President Salva Kiir â€" a member of the country's largest ethnic group, the Dinka â€" and followers of his former vice president, Riek Machar, a Nuer. Writing on the BBC News website, Mr. Leithead explained:
There are far more than 8,000 people here now. Many are Dinka, the biggest ethnic group in South Sudan and the tribe of the president. They claimed that the night the violence started they were targeted by the Nuer.

Among them are 2,000 Sudanese traders caught up in the crisis and desperate for their country to send planes to take them home.

Now that government troops appear to be closing in, the latest arrivals here have been Nuer â€" afraid of what may happen if the town changes hands.
Kieran Dwyer, a spokesman for the United Nations peacekeeping office in New York, told The Lede that the division of tribes at the base near Bentiu reflected the wishes of "community leaders," rather than a policy of the peacekeepers. "The initiative is on request of community leaders. They've advised that this is the best way to keep things calm and stable inside the base," Mr. Dwyer said. "If there is any policy here it's not ethnic separation. It's to work with community leaders."
Still, many close observers of the conflict were taken aback by the partition of the camp. In a conversation on Twitter, both Rebecca Hamilton, a human rights lawyer who has written about the impact of citizen advocacy on U.S. policy in the region, and Amir Ahmad Nasr, a Sudanese blogger, criticized the United Nations Mission in South Sudan for dividing the civilians.
Ethnicity is used readily enough by unscrupulous #SouthSudan elites right now. No need for the UN to add to it
@SamRosmarin @bechamilton @Max_Fisher Talk about wrongly reinforcing and exacerbating tribal divisions. Garang's Dinka son & co oppose Kiir.
The criticism echoes complaints about the role U.N. agencies played in the 1990s in transporting Bosnian Muslim civilians out of areas of the country seized by Serb forces, helping to tear apart the fabric of communities that had been intertwined for centuries.