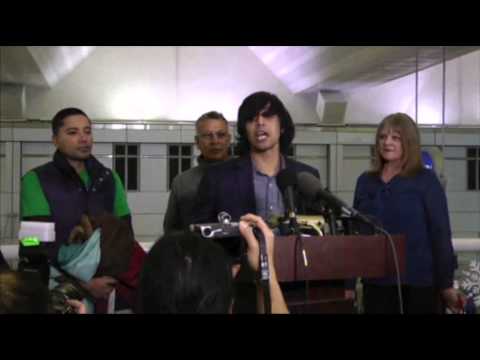 An American man who was accused of endangering national security in the United Arab Emirates â€" after making a satirical video about a fictitious combat school â€" said on his return to the United States on Friday that he was given the one-year jail term by a "kangaroo court."
The man, Shezanne Cassim, told reporters when he returned to Minnesota that he did nothing wrong. He said, in part:
"I was tried in a textbook kangaroo court and I was convicted without any evidence. To me this verdict was meaningless. We were not actually told what our crime was until about five months later, after we were taken in."

The video comedy sketch, created by Mr. Cassim and four other men, was about the fictitious Satwa Combat School, set in the Dubai neighborhood of the same name, with an instructor named Saloom Snake, who trained combatants to throw sandals, use the thin ropes of an Arab headdress as weapons and summon help on Twitter for fights that never actually occur.
Mr. Cassim and the others were detained in April 2013 after the video was posted on YouTube.
The U.A.E. released him this week for time served of about nine months, which is customary under federal laws to be equivalent to a year in jail, according to a representative of his family.
Mr. Cassim, 29, added that the United Arab Emirates authorities were "scared of democracy."
"They wanted to send a message to the U.A.E. public saying that, look what we will do to people who do just a silly YouTube video," he said. "So imagine if you do something that is actually critical of the government. So it is a warning message and we are scapegoats."