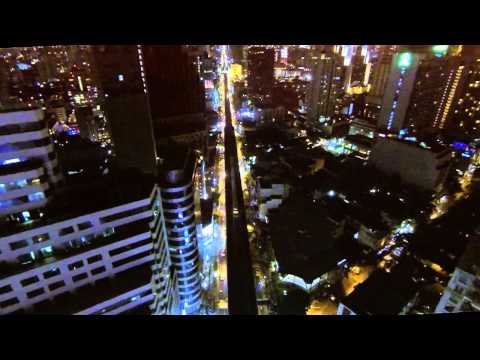 In the boldest move in two months of demonstrations against the government of Prime Minister Yingluck Shinawatra, Bangkok's central commercial district has been swarmed by antigovernment protesters, and on Tuesday, the second day of the so-called "shutdown" of the city and its consequences were widely tracked on social media.
Along with noisy, whistle-blowing protesters at the gatherings, Bangkok residents and others using #BangkokShutdown shared images of an unusual sight: relatively empty streets as traffic was diverted, or as drivers simply kept away. There were also reports of a brief, late night eruption of gunfire near a hotel popular with tourists, and an impromptu interview of an antigovernment protest speaker onstage.
As my colleague Thomas Fuller reported earlier this week, among the most popular pictures posted on social media sites are images of empty boulevards in Bangkok that on a normal day would be filled with vehicles. Richard Barrow, a travel blogger, has been tracking the social media postings in English and in Thai, sharing them on his Twitter account.

They keep talking about Bangkok Shutdown but the last 2 days have been more like a Car Free Day. It has been so easy to get around the city.
Road at Siam Skytrain station absolutely empty… earlier bicyclists took advantage of the road. #BangkokShutdown http://t.co/G9oCjxp0DU
@RichardBarrow @Dave_bkk sukumvit soi 3. Dead town.
Never this empty even at 4am. http://t.co/gMGACnrXLL
Late on Tuesday, Mr. Barrow posted reports of the sound of gunfire near a hotel, and the sound of an explosion near the home of a former prime minister.
This is the kind of thing I have been worrying about. The late night shootings have followed the protesters to an area populated by tourists
What we have are two separate incidents. Sound of explosion on Soi 31 near Abhisit's house & gunfire on Phayathai near Asia Hotel #Bangkok
Like many of Thailand's media and journalists based in the country, Humphrey Cheung, a freelance cameraman, uses drone-like remotely controlled cameras to cover the demonstrations, providing a bird's-eye view of the unrest in recent months, a handy reporting tool when protesters, who oppose elections scheduled for Feb. 2 and accuse government leaders of corruption, have blocked access to government and public buildings.
Mr. Cheung, who posts his footage on the YouTube account called routergods, showed further examples, such as this video of protesters at Asok intersection and another one on Tuesday of a train station in the central business district.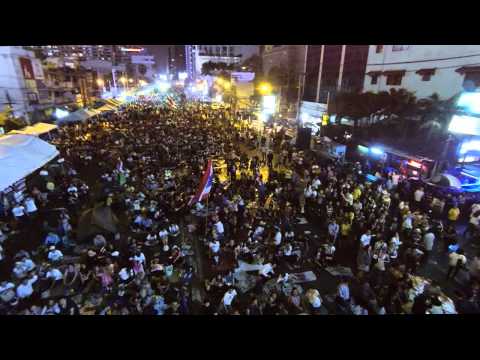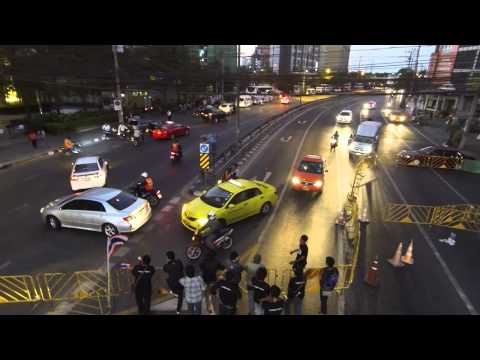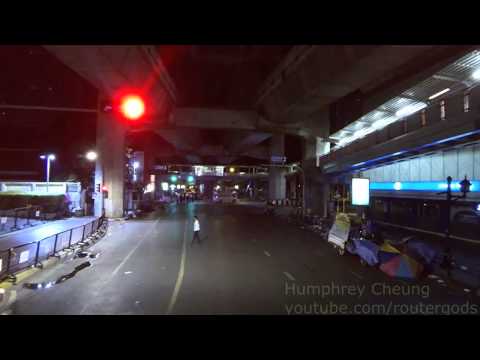 Rajprasong is another of the seven city crossroads taken over by the antigovernment protesters, as John Sparks, a Channel 4 news correspondent, described in a blog post and video from the site.
In an unexpected and spontaneous portrayal of the protesters' viewpoint, Mr. Sparks said he had been standing on the side of a stage when a protest speaker who had been addressing the crowd suddenly turned to him:
While we were filming, a flamboyant speaker called Dr Seri Wongmontha was busy whipping up the crowd - the sleeves of his flowing silk jacket of turquoise and pink, flying in the wind.

"We cannot stand what Yingluck Shinawatra has done to our country," he said before glancing over to me in the corner.

"You want an interview," he asked with microphone in hand. I responded in the affirmative, thinking that we would catch him off-stage after his performance. But I was mistaken.

Dr Seri, a Thai television celebrity, political columnist and judge of this country's annual cross-dresser beauty contest, had other plans.

What followed was a live, onstage dual in front of thousands of protesters.
As Mr. Sparks mentioned, the antigovernment protesters accuse the prime minister and her billionaire brother, Thaksin, of running the nation for their own personal benefit. But when he pointed out to Dr. Seri that there were allegations of corruption and vote-buying among leaders of the protest movement itself, Mr. Seri replied in part that the people "tolerate" some greed but Thaksin went "overboard."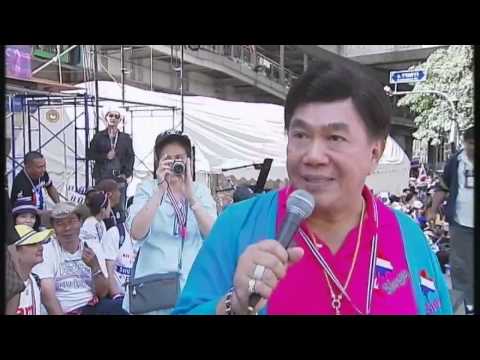 Meanwhile, large crowds have gathered in several cities north of Bangkok to hold candlelight vigils in support of elections, under the social media campaign using #RespectMyVote.
Mr. Barrow, the travel blogger, shared several images of those vigils as well.
More people gathering to light candles of peace. This one in Klong Saan in #Bangkok (Pic @weeranan) #RespectMyVote http://t.co/eraV1vOdmz