Vernon Ogrodnek/The Press of Atlantic City, via Associated Press
Snowy owls are touching down in Maryland. They've been spotted in Pennsylvania, Michigan and North Carolina.
In what experts say is the largest migration south in two decades, the large predators with blizzard-like plumage that normally reside in the Arctic, have been showing up across the eastern United States and beyond. There's even a report of a possible sighting in Bermuda.
To help quantify this year's migration, eBird, a project of the Cornell Lab of Ornithology, recently published a live tracker mapping sightings. The site harnesses the power of crowd sourcing, tapping amateur bird-watchers and biologists alike, to create real time reports, called "bits."
Cornell Lab of Ornithology; Google The eBird snowy owl tracker.
Snowy owls are known to fly thousands of miles south during some years - an event known to ornithologists as an irruption. But Chris Wood, a researcher at the Cornell Lab of Ornithology and the project leader for eBird, said this year's migration is "unlike anything most of us have seen in our lifetime in the Eastern United States."
Mr. Wood added: "That it comes on the heels of several other big pushes raises significant questions about why this is happening. These snowy owls may well be sharing a message for us about conditions in the arctic. But there are many variables at work."
The arrival of the snowy owls, familiar to most Harry Potter fans, have also created problems at some airports. Snowy owls were in the headlines in New York last week when it was reported that the Port Authority killed three at John F. Kennedy Airport. Airport officials said they were trying to keep the birds from colliding with arriving and departing aircraft. But after a public outcry, the Port Authority adjusted its protocols, creating a program to trap and relocate the birds rather than shooting them.
While the why of the mass migration remains a mystery, using technology to track sightings of snowy owls and other birds is giving scientists valuable information. Mr. Wood says that the database gets anywhere from three million to five million new bird sighting reports each month.
"It's really been within the last five years that eBird has taken off," Mr. Wood said.
At the moment, the site is running hot on the snowy owl. One report included footage of a pitched battle between a pair of resident peregrine falcons and two separate snowy owl invaders in Stone Harbor, N.J.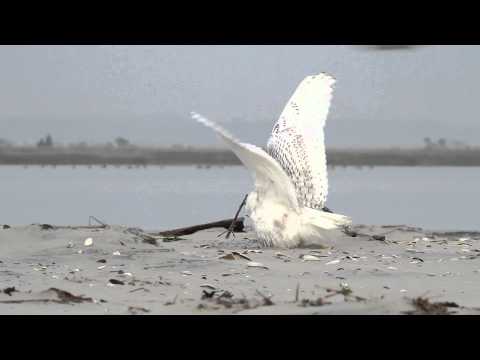 "What makes this really unusual is the magnitude," Mr. Wood said.
Taking just the sample of data collected by eBird from New York, it's easy to see why ornithologists and amateurs alike are so excited this year. Since the first snowy owl was reported on Nov. 21, there have been 693 sightings.
Of that total, 350 snowy owls were reported in the first week of December alone. For comparison, the previous 10 years of eBird data for the first week of December found a total of only 50 owls.
This marked increase puts the recent trouble at John F. Kennedy airport into some clearer context. Mr. Wood said the large numbers of owls arriving here find fewer familiar landing and hunting spots because of development and the abundance of more natural, thought still unfamiliar, terrain.
In the Arctic tundra, where the birds are born, there is little but open, treeless plains. But New England in particular has a lot less treeless land than it once did.
"The airport is an issue because even 50 years ago there was a lot more farming that took part in the northeast, Mr. Wood said." And as the amount of farmland declined, the relative attractiveness of the airport increased. "You have really good habitat for them and a good prey base."
Most urban airports are situated around marshlands with plenty of rodents and waterfowl to pick off.
The eBird database will give Cornell the ability to track not just the current owl inundation, but they will be able to compare it to those in the past to gauge change over time. That, Mr. Wood believes, may allow researchers to get at the root causes of these feathered animal waves. It may even help them figure out whether or not climate change is playing role behind the scenes.