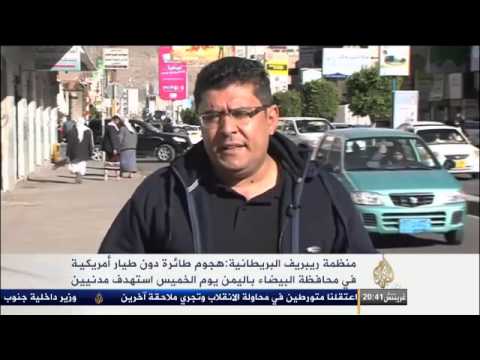 Images from local media surfaced last week on Facebook and in other social media showing what were described as the graphic consequences of a drone-fired missile strike on a convoy that was part of a wedding party in a remote area of Yemen.
Since the Dec. 11 attack, criticism and debate online over the use of drones in Yemen has widened as the attack has been dissected. The Yemeni government provided compensation for the victims; Parliament this week approved a decree banning drones, while human rights groups and others criticized the United States for its drone policy and questioned its effectiveness in fighting terrorism.
As my colleague Robert F. Worth reported last week, at least 11 people were killed when missiles fired by drones hit the convoy in Bayda Province. The previous week, a multistage assault on Yemen's Defense Ministry left 52 people dead. Al Qaeda's Yemen-based affiliate claimed responsibility.
Most of the dead in the drone strike appeared to be people suspected of being militants linked to Al Qaeda, according to tribal leaders in the area, but there were also reports that several civilians had been killed, Mr. Worth reported.

Although it did not mention a specific attack in Yemen, the United Nations approved late on Wednesday a draft resolution to ensure that the use of "remotely piloted aircraft" complies with a country's obligations under international laws, including those that deal with distinguishing the targets.
After the attack on the wedding convoy, Kenneth Roth, the executive director for Human Rights Watch, quoted previous remarks from the Obama administration about drone use and targeting.
So much for Obama's promise that drones wouldn't be used unless there's a "near certainty" of no civilian casualties http://t.co/On6EAd0Dii
Human Rights Watch linked to a recent report that examined six targeted drone killings in Yemen before the one on Dec. 11.
United States targeted airstrikes against alleged terrorists in Yemen have killed civilians in violation of international law. The strikes, often using armed drones, are creating a public backlash that undermines US efforts against Al-Qaeda in the Arabian Peninsula (AQAP).
Atiaf Alwazir, a researcher and blogger based in Sana'a who was a co-founder of a media advocacy group called SupportYemen, also highlighted a look at the background of the drone program in Yemen and the effect on civilians, which she referred to as the "invisible casualties."
A Yemeni-born blogger for Global Voices wrote that opposition to the drone strikes should not be confused with support for Al Qaeda in the Arabian Peninsula, using the group's acronym AQAP.
Opposing #drones i4 their illegal extrajudicial killing & inhumanity, doesn't mean sympathizing with AQAP nor does it mean approving them.
The State Department deputy spokeswoman Marie Harf, answering a question about the Dec. 11 drone attack during a briefing on Dec. 13 in Washington, reiterated the administration's position while making it clear she was speaking about the policy in general. "Obviously, broadly speaking, we take every effort to minimize civilian casualties in counterterrorism operations - broadly speaking, without speaking to this one specifically."
But the impact is in sharper focus on the ground. Iona Craig, a Times of London correspondent based in Yemen, visited the scene of the strike as well as the hospital facility and interviewed witnesses at both places, sharing at least one image of a child she was told had lost his father in the attack.
Past 24hrs: Visited strike site & widows of civilian victims + saw aftermath of MoD hosipital attack & met survivors. Both #Yemen tragedies
The Yemen Times reported this week that the Yemeni government had given guns and money to the families of the victims of the drone strike, in what was described as a "rare case of arbitration."
And Parliament voted for a ban against the use of drones in Yemen, as Nasser Arrabyee, a reporter for The New York Times, noted on Twitter. But it was not clear to what extent it would affect the flights, if at all.
#Yemen parliament voted for a decree to ban US drones from striking and flying over Yemen.
Adam Baron, a freelance journalist based in Yemen, also highlighted the outstanding questions.
Told that there wasn't a single MP who voted against today's drone ban. Telling. #yemen
At this point, there's little indication that #yemen parliament's drone ban is anything more than a symbolic gesture.