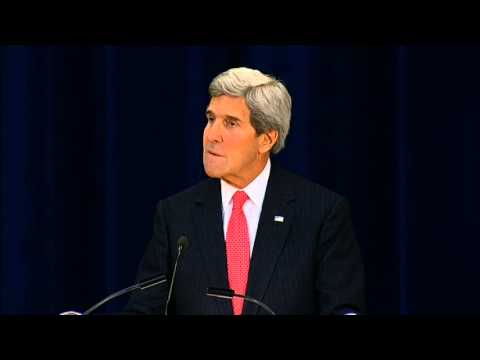 Secretary of State John Kerry argued on Wednesday that Egypt's 2011 revolution was started by tech-savvy young people with no ideological aims before being "stolen by" Islamists from the Muslim Brotherhood, who behaved autocratically after winning parliamentary and presidential elections.
Mr. Kerry's remarks, in an address to the State Department's Overseas Security Advisory Council, seemed at odds with the message sent by President Obama last month when he withheld $260 million in aid from Egypt's military leaders, who forced the Brotherhood leader Mohamed Morsi from the presidency in July and have overseen a deadly crackdown on dissent.
America's top diplomat discussed the revolution in a passage of his speech in which he suggested that young people in the Middle East only turn to extremist ideologies out of frustration at a lack of economic and educational opportunity.
Speaking of the Tunisian fruit vendor Mohamed Bouazizi who set himself on fire in late 2010, Mr. Kerry said, "there was no religion, nothing, no extremism and ideology behind it. He got slapped around by a police officer, he was tired of corruption, and he wanted an opportunity to lead his life by being able to sell his wares."
Turning to Egypt, and perhaps confusing the video-chat program Facetime with the social network Facebook, Mr. Kerry continued:
And those kids in Tahrir Square, they were not motivated by any religion or ideology. They were motivated by what they saw through this interconnected world, and they wanted a piece of the opportunity and a chance to get an education and have a job and have a future, and not have a corrupt government that deprived them of all of that and more. And they tweeted their ways and Facetimed their ways and talked to each other, and that's what drove that revolution. And then it got stolen by the one single-most organized entity in the state, which was the Brotherhood.