If, on Monday, President Nicolás Maduro of Venezuela had something pressing to say to Henrique Capriles, the country's most prominent opposition leader, he would have to save it for later. Mr. Capriles, after initially indicating that he would attend talks on Monday with Mr. Maduro and other elected officials about the growing unrest in the streets, had a very public change of heart.
"Today, there's NO meeting with Nicolás," Mr. Capriles tweeted early Tuesday morning, persisting in his habit of referring to Mr. Maduro by his first name. "After so much lying and insulting, we are consulting communities about assistance."
Hoy NO hay reunión con Nicolás,es Consejo Federal y estamos después de tanta mentira e insulto consultando comunidades sobre asistencia
Mr. Capriles, the governor of Miranda state, had been even more emphatic in a news conference shown on his personal Internet site, Capriles.tv, on Monday afternoon.
"I'm not going to be the one who goes to the White House and washes Nicolás Maduro's face. This is what they want me to do, so that we can shake hands as if the country were in a totally normal time," he said, according to El Universal. The presidential palace, Mr. Capriles said, "is not the place to talk about peace in the country. It's the center from which human rights violations are ordered."
The night before, Mr. Maduro made about as direct an appeal to Mr. Capriles as possible in an interview with TelesurTV. "Surely, Capriles sees me," Mr. Maduro said, and paused to wave at the camera. "He's watching the interview, surely. Come, Capriles. Let's take a step toward peace."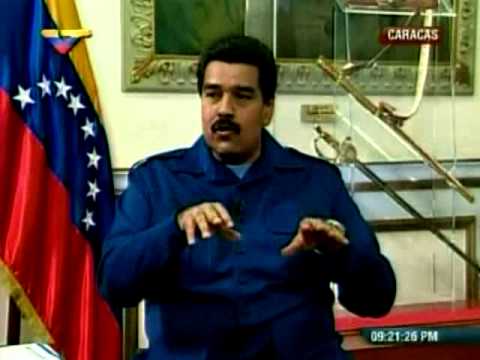 Video of a television interview with Venezuela's president.
(That invitation was followed by a long list of differences that Mr. Maduro perceives he has with the opposition leader. "You're a capitalist, I'm a socialist. You're a privatizer, I'm not. I believe in the people, in the public, in services. You have profound relations with the United States," he said. "I don't. I believe in South America.")
The rejection of taking part in talks marked a change for Mr. Capriles, who has been conciliatory toward the government since narrowly losing to Mr. Maduro in last year's presidential election.
"His street cred has always been a problem for the more hothead opposition," Francisco Toro, a prominent opposition blogger, said of Mr. Capriles. "He needs to carry those folks along with him to some extent. He's not been super successful with that."
Mr. Capriles initially rejected the election results, and urged his supporters into the streets in protest. But then, just days after the large demonstrations started, Mr. Capriles called them off, citing fears of violence.
"We know that your agenda in the government is to try to get the country into a situation of confrontation and violence," Mr. Capriles said at the time. "Tomorrow we won't mobilize."
In January, it was Mr. Capriles who was appealing to Mr. Maduro, writing on Twitter, "Nicolás, I propose that we put aside our profound differences and unite against insecurity, as one bloc."
Nicolás @NicolasMaduro te propongo poner a un lado nuestras profundas diferencias y unirnos contra la inseguridad,un solo bloque
At a meeting at the presidential palace the next day, Mr. Capriles shook hands with Mr. Maduro, prompting criticism from some in the opposition. (On Monday, Mr. Capriles said of the government's invitation to join talks, "all they wanted was a photo.")
And Mr. Capriles was not quick to take ownership of this round of street protests, leaving that to Leopoldo López, the leader of the Popular Will party. But Mr. López is now in jail, facing charges of arson and conspiracy, and the protests have gotten only more violent.
Thirteen people have died in Venezuela's protests since they began Feb. 12, Attorney General Luisa Ortega Díaz said Monday. Mr. Capriles, citing unofficial figures, said at his news conference Monday that 242 people remained detained by the government.
"Capriles, he doesn't want to be seen as the person who now saps strength from the protest movement," said David Smilde, a senior fellow at the Washington Office on Latin America. Negotiations, Mr. Smilde said, are only in the opposition's interest if the side will actually be heard.
"I think he's pulling back from negotiations because it was really a nonoffer," Mr. Smilde said. Mr. Maduro invited Mr. Capriles to a meeting of the federal governing council that, as governor, he was already entitled to attend. "The way it's structured, it's so dominated by the executive branch that it seems unlikely that any progress would be made on opposition demands," Mr. Smilde said.