Video of clashes between Venezuelan protesters and the police at barricades in San Cristóbal.
The student protests that began just a few weeks ago in Venezuela have swept the country, as my colleague William Neuman reports, evolving into the biggest demonstrations seen since the death of the longtime leader Hugo Chávez last year.
While the government-controlled news media has sought to minimize the protests and portray the opposition as "fascists," people across the country have been telling their own story, capturing images and video of the tumult. They also used Twitter and other social media platforms to urge people to build barricades across Venezuela and then share photos of them.
.
#Tachira 1:06am #24F #24FGranBarricadaNacional http://t.co/VMW9pc0WZe

â€" ☆☆☆☆VÑ"ηÑ"zσâ""αησ☆☆☆☆ (@SoyVnezolano) 24 Feb 14
Just this month, nearly one million posts on Twitter have used the hashtag #24FGranBarricadaNacional to help organize the conversation about the unrest.
In this video, shot through a window and uploaded onto YouTube, armed members of the government can be seen assembling outside of a barricade amid gun shots fired. At one point, they encounter a female demonstrator.
On Monday, the protests shut down San Cristóbal, a city of 260,000, as my Mr. Neuman, my colleague, reports.
In Caracas, the capital, and in other cities, people created barricades with furniture and tree limbs to block roads in what Mr. Neuman describes as a "coordinated action against the government."
Scenes of the barricades in San Cristóbal were shared widely online.
SAN CRISTÃ"BAL. A ésta hora. Av principal de pueblo nuevo #VzlaElQueSeCansaPierde #24FGranBarricadaNacional http://t.co/0sRLOqriZa
Av Ayacucho 8:41 Maracay Edo Aragua #24FGranBarricadaNacional #VzlaElQueSeCansaPierde #SOSVenezuela http://t.co/lPNYHbAcpV
Barricada por el cc Pie de Monte #Merida #24FGranBarricadaNacional http://t.co/ktgI28CvGH
http://t.co/Ruyxpc4D73 EN CIUDAD OJEDA VEAN LO QUE PASA CON LOS CIVILES #24FGranBarricadaNacional RT MASIVO
#24FGranBarricadaNacional #TachiraArrecho Rigth now http://t.co/x4lB0U7Stx
The aggressive response by President Nicolás Maduro to the public dissent has fueled the outpouring in the streets and mounting anger over high inflation rates, chronic shortages of basic goods, and violent crime despite Venezuela's having the world's largest oil reserves.
Over the weekend, a video that was shot from an apartment window and posted on YouTube showed tear gas and shots fired into a crowd in Caracas.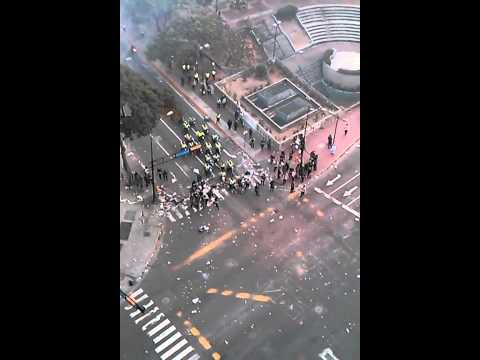 Tear gas shot int the crowd in Caracas, the capital.
While some of the protests turned into clashes with the police, many demonstrations were peaceful, including this human chain that stretched more than two miles over the weekend in the Caracas suburb of El Hatillo.