ช่วยกันแจ้งเบาะแส…ตามจับคนร้ายตามภาพนะครับ http://t.co/XFSiRE7SsG

â€" à¸-ีมโฆษก ตร. (@PoliceSpokesmen) 20 Jan 14
As my colleague Thomas Fuller reported from Bangkok on Tuesday, the government in Thailand has declared the imposition of emergency rule to start on Wednesday.
The decree comes after protesters were attacked by unknown assailants in recent days; three grenade attacks left one person dead and dozens injured. The government and the protesters have blamed each other for those assaults.
This week, the law enforcement authorities in Thailand have released images of the man suspected of being behind one of those attacks.

They posted video of the suspect loitering in an alley near a convenience store and then extracting an object and hurling it, causing an explosion, before running off in the opposite direction.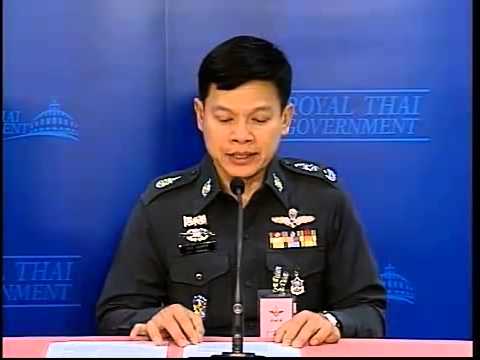 Footage released on Jan. 19 by the Thai police of one of the attacks on protestors in Bangkok.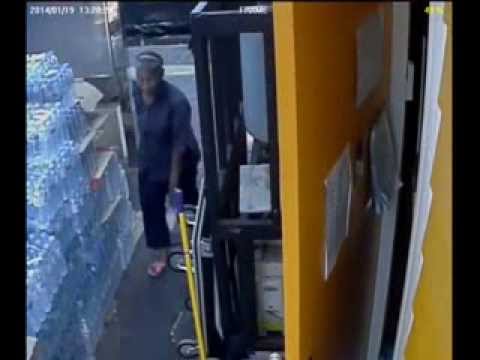 Thai police release footage on Jan. 18 of the suspected attacker throwing the grenade.
In its report on the violence on Friday at Banthat Thong road and on Sunday at the capital's Victory Monument, The Bangkok Post quoted the deputy chief of the Metropolitan Police, Col. Adul Narongsak, as saying the two attacks were believed to have been carried out by one group based on debris and pins found at the scene that identified similar high-explosive fragmentation devices were used in each.
As Mr. Fuller reported, the foreign minister, Surapong Tovichakchaikul, said the emergency rule move was necessary because protesters had broken the law by blocking government offices and banks in recent days and threatening and harassing government officials.
He said in his reporting over the weekend that the attack last Friday took place as a "dwindling but dedicated core of protesters" continued to block access to a number of government buildings and major intersections.
Humphrey Cheung, a freelance cameraman, posted footage from a remote controlled camera of protests on Monday at a bank and late on Tuesday at an intersection in the capital, where protestors have focused a campaign they call "Bangkok Shutdown."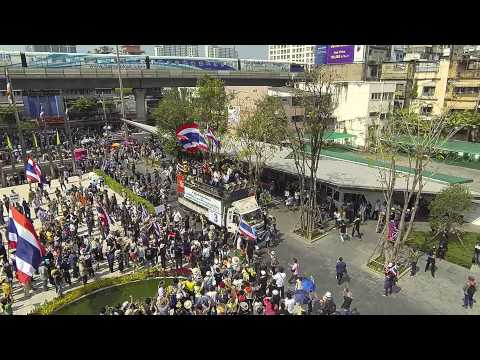 Journalist Humphrey Cheung posted this remote controlled footage taken Jan. 20 of protestors surrounding Government Savings Bank.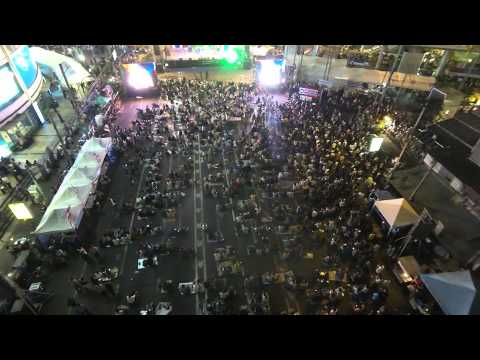 Freelance video journalist Humphrey Cheung posted video of Jan 21 protest at Asoke intersection in Bangkok
Follow Christine Hauser on Twitter @christineNYT.