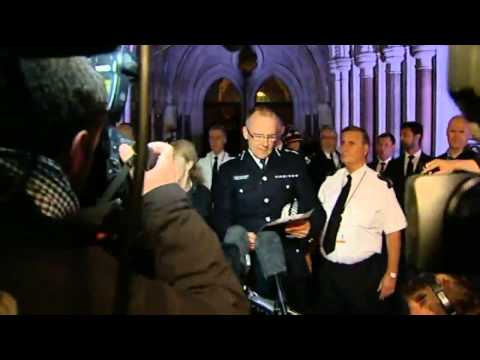 There was visceral anger outside the Royal Courts of Justice in central London on Wednesday, after an inquest jury decided that police officers had acted lawfully when they shot and killed an unarmed man they suspected of carrying a gun in 2011. Protests over the fatal shooting of the man, Mark Duggan, devolved into riots that spread across England shortly after his death.
Although a police spokesman, Assistant Commissioner Mark Rowley, offered sympathy to the family of the dead man, in a statement he read aloud outside the court, his words were largely drowned out by shouts of "Murderer!" and "No Justice, No Peace!"
As Britain's Channel 4 News reports, Mr. Duggan was shot by police marksmen acting on intelligence that he was carrying a gun in the north London neighborhood of Tottenham, on Aug. 4, 2011. The jury decided by a vote of eight to two that while Mr. Duggan was found to have been unarmed at the time of his death, he had been carrying a gun and tossed it away when confronted by the officers. The police later found a gun about 20 feet away from Mr. Duggan's body, inside a sock.
The Duggan family's lawyer, Marcia Willis Stewart, and the dead man's brother and aunt told reporters that they rejected what they called "a perverse judgment" and vowed to fight "for as long as it takes" to get justice. The aunt, Carole Duggan, said, "The majority of people in this country know that Mark was executed."