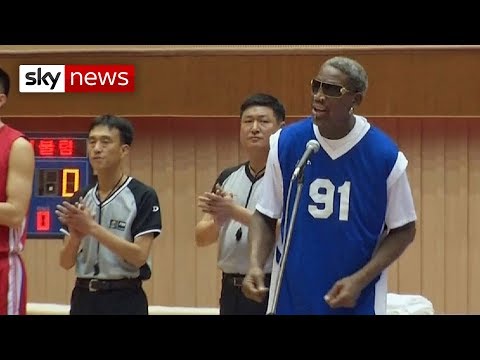 One day after he seemed to suggest that an American citizen detained in North Korea might deserve his fate, the retired basketball star Dennis Rodman serenaded North Korea's leader, Kim Jong-un, with a chorus of "Happy Birthday, Dear Marshal," before an exhibition game in Pyongyang on Wednesday.
According to an Associated Press report from the Pyongyang Indoor Stadium, Mr. Rodman also told the capacity crowd of 14,000 that Mr. Kim, who turned 31, "is a great leader, he provides for his people here in this country, and thank God the people here love the marshal." The American then led a group of retired National Basketball Association players to a 47-39 loss to a North Korean squad in the first half of the exhibition game.
The teams were mixed for the second half, which Mr. Rodman watched from the stands, sitting next to Mr. Kim. After his first meeting with Mr. Kim last year, Mr. Rodman told reporters, "I love him â€" the guy's awesome."
Before tip-off, the sister of Kenneth Bae, a Korean-American who was sentenced last year to 15 years in a North Korean labor camp, expressed her disgust with comments made by Mr. Rodman about her brother in a contentious interview with CNN broadcast on Tuesday.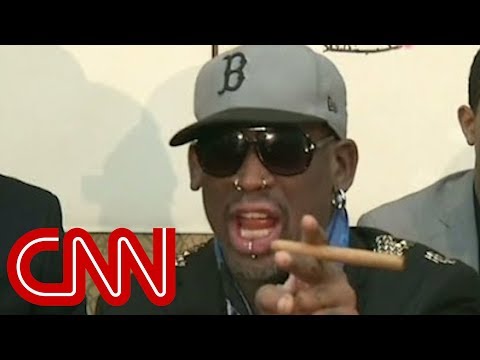 Asked during the interview if he would take the opportunity to raise Mr. Bae's imprisonment with North Korea's leader, Mr. Rodman suggested that the reporters who have pressed him on the issue do not "understand what Kenneth Bae did." Before displaying his rage, Mr. Rodman asked Chris Cuomo of CNN: "Do you understand what he did? In this country?"
In a statement sent to reporters on Wednesday, Mr. Bae's sister Terri Chung said:
Dennis Rodman and his friends are in the DPRK (North Korea) now, practicing "basketball diplomacy," as he has phrased it, playing games apparently to celebrate the birthday of the supreme leader, Kim Jong-un.

It is clear to me, however, that there is nothing diplomatic about his trip. My family and I are outraged by Rodman's recent comments. He is playing games with my brother's life. There is no diplomacy, only games, and at my brother's expense.

During an interview on CNN, Rodman was protective of his "friend for life," DPRK's supreme leader Kim Jong-un. Yet Rodman became enraged when asked about my brother, the American tour operator Kenneth Bae, who is sick and has been imprisoned in the DPRK for 14 months.

Dennis Rodman could do a lot of good by advocating for Kenneth to Kim Jong-un, but instead he has decided to hurl outrageous accusations at my brother, insinuating that Kenneth has done something sinister. He is clearly uninformed about Kenneth's case, and he is certainly not in any position to pass judgment on Kenneth Bae, who has never any hostile intentions against the DPRK.
The Rodman-led trip was also denounced by the chairman of the board of the National Basketball Retired Players Association, Otis Birdsong, who said in a statement: "Under the right circumstances basketball can serve as a bridge to bring communities together, but these are not those circumstances. Standing alongside our partners at the N.B.A., we do not condone the basketball activities to be conducted in North Korea this week."
After the game on Wednesday, one of the players who accompanied Mr. Rodman to North Korea, the former New York Knick Charles Smith, who took a more measured tone in the CNN interview, told The A.P. that he was "not totally overjoyed" by how things had worked out.