As my colleague Andrew Kramer reports, Ukraine moved to blunt the momentum of separatist rebels in the east of the country, launching a military operation to secure an air base in Kramatorsk, where the police headquarters was seized last weekend.
Although there were conflicting reports about the nature of the military operation â€" whether the Ukrainian forces had retaken the airfield or simply rebuffed an effort to storm it â€" journalists arrived on the scene shortly after it concluded. They watched as a crowd formed around the perimeter of the base, which included men in civilian dress adorned with the orange and black St. George's ribbons that are the symbol of the pro-Russian separatists and soldiers in unmarked uniforms, armed with rifles and rocket-propelled grenade launchers.
Local and foreign correspondents then watched as the commander of the military unit, Gen. Vasily Krutov, came out of the base to address the crowd and was roughed up by the demonstrators. Video and photographs of the incident were posted on a local news site, 6264.com.ua.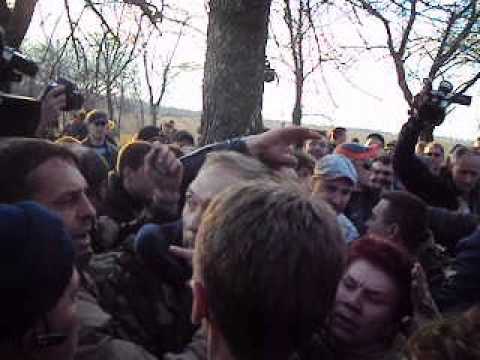 Video of an attack on Gen. Vasily Krutov, a Ukrainian commander in Kramatorsk.
Alec Luhn, a Guardian correspondent who witnessed the event, reported that as soon as General Krutov told the crowd gathered outside the gate of the base that his men were "conducting an antiterrorist operation," he was met with shouts of "What terrorists?" and set upon.
The attack on the general echoed an incident the night before in Kiev, where a mob beat Oleg Tsarov, a pro-Russia politician from the eastern city of Dnipropetrovsk who is running for the presidency. As Mr. Tsarov recounted on Facebook, he was set upon outside a television studio after a live broadcast during which some viewers had the impression that he was in favor of Russian military intervention in Ukraine.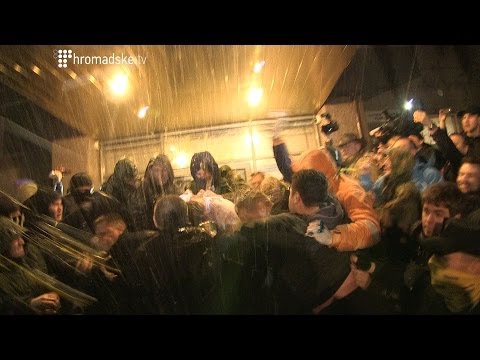 Video of an attack on a pro-Russia politician in Kiev on Monday night.
Video of the attack on Mr. Tsarov was posted online by the Internet television channel Hromadske.tv, which also broadcast a subsequent interview with him in which he appeared stripped to the waist to display the bruises on his torso.
Oleg Tsarov, a Ukrainian politician who was beaten by a mob on Monday night, spoke to reporters after the encounter.
In the interview late Monday, Mr. Tsarov insisted that he was not in favor of military intervention. "I did not ask for Russian troops to be sent in. I am categorically against this," he said, according to a translation published by Euronews.
The badly bruised and scratched Mr. Tsarov, who has little support in opinion polls, added: "I am against a third party interfering in the affairs of Ukraine. Until we learn to listen to each other, Ukraine will stand no chance."