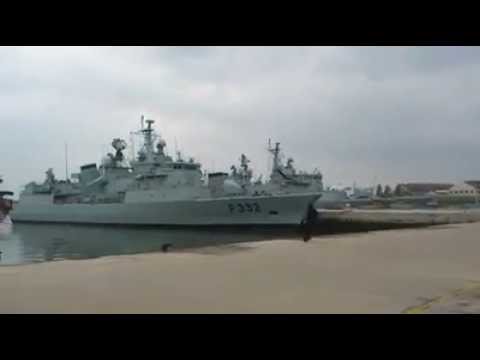 Video of a small drone failing to take flight during a public demonstration in Portugal last week.
As the Lisbon daily Público reported, the Portuguese Navy's fledgling drone program attracted international attention last week because of footage of the failed maiden voyage of a new reconnaissance craft that was quickly viewed hundreds of thousands of times online.
The less-than-triumphant first flight of the small AR4 Light Ray, which lasted just seconds before the craft plunged nosefirst into the water just off the edge of the dock from which it was launched, was witnessed by the nation's defense minister and naval chief of staff and recorded from at least three angles by crews from the state broadcaster other journalists.
A Portuguese television report showed both the failed first flight of a new drone and a more successful second trial.
A video report from Portugal's state broadcaster on the defense minister's visit to a navy base in Lisbon last week showed two tests of a new drone.
Before a second, far more successful takeoff, Defense Minister José Pedro Aguiar-Branco told reporters at the Lisbon Navy Base that the crash, which was apparently caused by the craft's hitting the shoulder of the marine who tossed it into the air, just bolstered his case that the government needs to invest in training for the military. (A promotional video for the drone posted online by Tekever, the company that developed it in collaboration with Portugal's Navy, demonstrates the proper technique for hurling it into the air.)
Portugal's defense department later released surveillance video recorded during the longer test flight, and the navy's own Facebook report on the test made no mention of the halting start.
Footage released by Portugal's defense department to demonstrate a new drone's surveillance capability.
Post
by
Marinha Portuguesa
.
Follow Robert Mackey on Twitter @robertmackey.