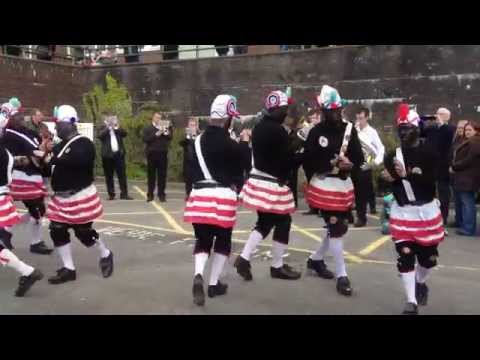 Video of the Britannia Coconut Dancers of Bacup performing on Saturday in Lancashire, England.
To the ever-growing catalog of behaviors that are not racist according to European politicians â€" like comparing a black minister to an orangutan in Italy and sharing a fabricated image of President Obama staring at a banana in Russia â€" we can now add performing in blackface, thanks to a candidate for Parliament in rural England.
The candidate, Will Straw, who hopes to follow his father into Parliament as a Labour Party member, rushed to defend what he called the "proud tradition" of a blackface troupe of Morris dancers in Lancashire called the Britannia Coco-nut Dancers of Bacup. On Saturday, Mr. Straw drew attention to the local Easter tradition when he posted a photograph of himself standing with a leader of the Bacup troupe on Twitter, hours after his Conservative Party opponent, Jake Berry, had done the same.
Good to talk to Neville Earnshaw of world famous Brittania Coconutters in the New Inn. Great Bacup tradition. http://t.co/8eRxFl8BpM
Boundary Dance going ahead this year won the #Bacup Nutters. Happy Easter Saturday to everyone in #Rossendale http://t.co/F6XbhFt2c1
After Mr. Straw's photograph prompted some outrage on Twitter, he returned to defend himself by posting a link to the troupe's website, which explained that Morris dancing is a form of medieval folk dance originally called Moorish dancing said to bear some relationship to the dark-skinned North Africans who ruled Spain until 1492.
Just checked back on twitter & seen torrent of ignorant tweets on Britannia Coconut dancers. Nothing racist about it http://t.co/VgcTLzY412
Running for office in one of England's less multicultural areas, Mr. Straw also cast himself as a defender of tradition, writing in a blog post: "As many small towns throughout Britain struggle to maintain their identity against a tide of national retail chains, betting shops and fast food outlets, Bacup's annual dance provides a window into a previous era. But it's traditions from the past which give communities a sense of common identity for the present and the future."
That explanation failed to satisfy many critics who noted that behaviors can be both traditional and racist.
Don't care what colour party Will Straw represents, the question is, is he fit to hold 'public office' when he offends black people like me?
Brace yourselves, people. It's time for us to explain why blackface is racist for the 69752378094458964th time http://t.co/3vvzZtVSBf
Tradition isn't an argument but an appeal to the senses. And in this case ignores caracicatures of blackfolk that predated trans-A slavery.
@JanaCahill @wdjstraw 'Oh, it's got nowt to do w/race, just based on African pirates & how locals perceived they dressed'… groan.
@wdjstraw @karleastham Bizarre controversy?Just because it's a tradition, doesn't make it right or not offensive.Slavery used 2 b a traditon
The dispute left Mr. Straw contemplating some strange bedfellows, as Conservatives, including Daniel Hannan, a member of the European Parliament, and Stephen Burrell, a local councilor. But he was pilloried from the left by a Green Party candidate, Benali Hamdache.
Critics of @wdjstraw are being opportunistic. What kind of professional offence-taker finds racism in a Morris Dance, for Heaven's sake?
@DanHannanMEP @wdjstraw Morris dancing is a part of our cultural heritage, we don't have much left but at least we still have common law.
@wdjstraw not sure how you've not clocked the dance is meant to be people dressing up as Moorish people. Turbans/black face etc
@wdjstraw so just older form of blacking up…
Other observers noted that attitudes to race in Britain have been so slow to change that it was not until 1978 that the BBC stopped broadcasting a program called "The Black and White Minstrel Show."
One of Mr. Straw's critics, a recent graduate in London named Salome Wagaine, connected his defense of blackface Morris dancing to the continuing debate in the Netherlands over an old Christmas tradition, in which Dutch men, including the nation's prime minister, Mark Rutte, still delight in blacking up to play Zwarte Piet, or Black Pete, a dark-skinned helper of Santa Claus.
Prime Minister Mark Rutte of the Netherlands recently defended taking part in the tradition of dressing up in blackface for Christmas.
Follow Robert Mackey on Twitter @robertmackey.