UNRWA, via Associated Press
A spokesman for the United Nations agency that provides assistance to Palestinian refugees rejected claims that an arresting image of thousands of people waiting for food distribution on a ruined street in Damascus recently had been digitally altered.
Chris Gunness, the spokesman for the United Nations Relief and Works Agency, or UNRWA, said in a statement on Tuesday that the photograph â€" which is being used in a social media campaign to draw attention to the suffering of refugees trapped by fighting in a camp in the Syrian capital â€" has not "been 'photoshopped' or tampered with in any way. It is entirely genuine."
Mr. Gunness, who has expressed his personal outrage at conditions in the Yarmouk Camp, is leading an effort on the social media platform Thunderclap to get the image displayed on a giant screen in Times Square by generating 23 million retweets, matching Syria's pre-war population.
Tell me I am not alone @ being outraged by this scene in the capital city of a UN member state in the 21st century http://t.co/CF2GQNIPxu
#Yarmouk is desperate: #LetUsThrough to help. Join us: Do you stand #withsyria? http://t.co/kIxw2KyqFV http://t.co/7bfzEegaKZ
Mr. Gunness also denied that the agency was taking sides in the conflict by drawing attention to its Palestinian victims. "We are a humanitarian agency and can only be effective in delivering aid in such complex circumstances by meticulously safeguarding our neutrality," he said. "When you work in war zones across the Middle East as UNRWA has done since for over six decades, the 'neutrality instinct' is second nature."
As for the photograph, which was taken on Jan. 30 as food was distributed to some of the estimated 18,000 Palestinian refugees remaining in the camp, the spokesman said, "it took on a life of its own, generating millions of social media impressions in minutes and appearing in about one thousand print editions of newspapers on just one day."
Any claims that the photograph, which was described as "a biblical picture of suffering" in the British tabloid press, was created in Photoshop would seem to be dispelled by video of the same event released by UNRWA.
U.N. video of food distribution in the Yarmouk Camp for Palestinian refugees in Damascus on Jan. 30.
According to a shot list released with that footage, a Palestinian woman who was filmed collapsing from exhaustion while waiting for food said that she was originally from what is now the Israeli city of Safed, which had an Arab majority until 1948. "All my children are missing," she added. Asked for her name, she replied: "My name is Prison."
As my colleague Christine Hauser reported last month, local activists in Damascus also uploaded video to YouTube the same day, apparently showing the same U.N. food distribution in the camp.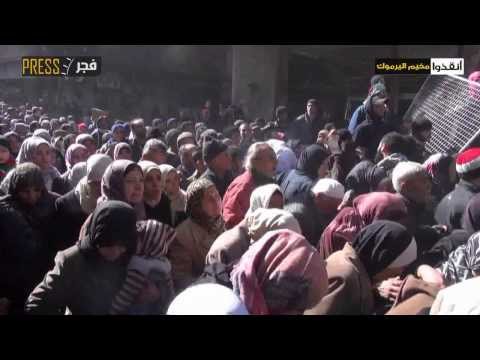 Video uploaded to YouTube on Jan. 30 by Syrian activists, said to have been recorded during U.N. food distribution in the Yarmouk Camp for Palestinian refugees in Damascus.
The vast devastation of the same street was documented by Lyse Doucet of BBC News, who reported on the distribution of food in the same area three weeks later.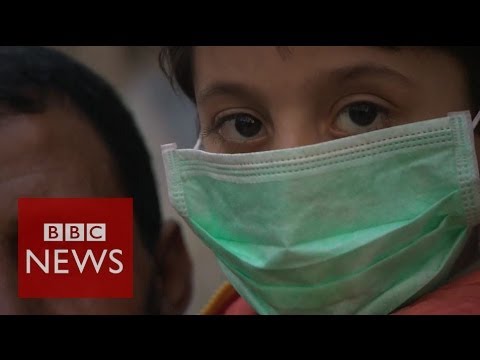 A BBC News video report on the distribution of food to Palestinian refugees in the Yarmouk Camp in Damascus on Feb. 24.
Orderly queues ruins #Yarmouk. Behind them, desperate crowds, & then all the people who can't reach here http://t.co/0iFlum7jH4
Follow Robert Mackey on Twitter @robertmackey.