Domingos Peixoto/Agence France-Presse â€" Getty Images
Santiago Andrade, a Brazilian cameraman, was badly injured when he was struck in the head by an explosive device while covering clashes between protesters and the police in Rio de Janeiro on Thursday evening. He remained in critical condition on Friday, after four hours of neurosurgery, according to the local Globo news site.
The grave injury to Mr. Andrade was captured on video by colleagues from the BBC, who rushed to save him.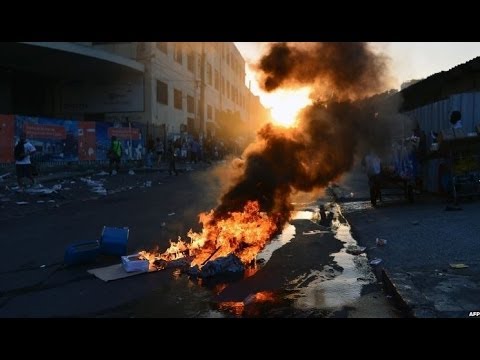 A BBC News video report on fare-price protests in Rio on Thursday showed a Brazilian cameraman being badly injured.
A Russian state news agency later published footage which showed a flare burning on the pavement before suddenly becoming airborne and striking the journalist in the head.
Video from the Russian state news agency Ruptly showing a Brazilian journalist being wounded at a protest in Rio on Friday.
Globo reported that a photographer who also captured the sequence of events leading up to the injury said that the firework burning on the ground near Mr. Andrade had been thrown there by a masked man in a gray T-shirt, pictured running away just before the explosion.
Press saying man on grey tshirt, running away from the scene (right), set the firework that hit the cameraman in Rio http://t.co/LXnxb3KQfM
However, another witness, a videographer for the activist news collective Jornal Zona de Conflito Mídia Independente, insisted in a Facebook post that showed the incident from yet another angle that the projectile seemed to have come from police lines.
Post
by
Jornal Zona de Conflito Mídia Independente
.
More footage of the clashes, posted online by another group that supports the protests, the Jornal A Nova Democracia, appeared to show similar flashes coming from an object hurled or fired at protesters at another stage.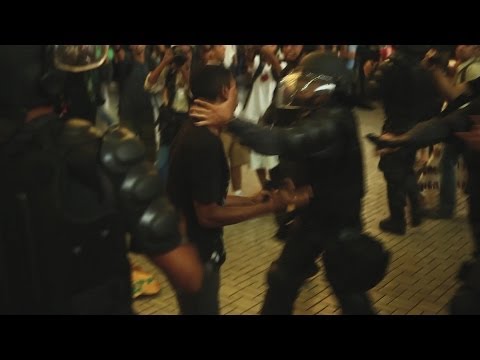 Video of protesters and the police clashing in Rio de Janeiro on Thursday.
Wyre Davies, the BBC News correspondent who rushed to help Mr. Andrade with his own cameraman Chuck Tayman, noted in a conversation on Twitter with Gabriel Elizondo of Al Jazeera that it was difficult to be certain were the flare had come from, in the absence of images of it being thrown or fired.
Shocking night in #Rio. A fellow journalist suffered terrible head injuries when hit by explosive device. Did our best to save him. Not sure
Globo News reporter says firecracker was fired by police. But O Globo newspaper just posted photo on site suggesting perhaps not.
@elizondogabriel A lot if people are speculating, either saying what they'd like to think or what they've heard from others.
Who shot the firecracker in question is important for both police and protesters and what happens next. A lot at stake.
@elizondogabriel The device "sparked" on the floor briefly before igniting & exploding near Santiago's head. Do the cops fire such things?
As Mr. Davies reported, the protest was over increased public transport fares in Rio, and demonstrators complained that promised improvements to their city's infrastructure from spending on next summer's World Cup had yet to materialize. Graffiti asked the World Cup organizers, FIFA, to pay the increased fares, and protesters also chanted "We want FIFA-standard hospitals too."
One young protester told the Guardian correspondent Jonathan Watts, "When the World Cup comes there will be more demonstrations. The World Cup is worsening inequality."
Robert Mackey also remixes the news on Twitter @robertmackey.