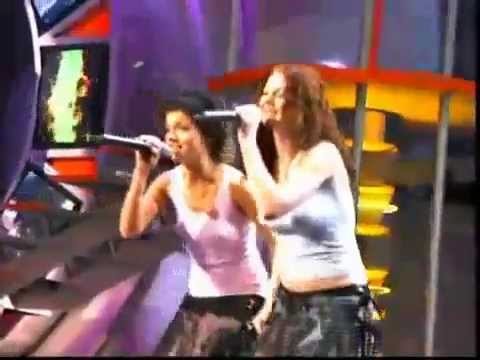 t.A.T.u performing at the MTV Music Awards in 2003.
As my colleagues in Sochi write in their live-blog, the Winter Olympics have officially begun with the completion of the opening ceremony, and social media is again being used as a stage for expressions of L.G.B.T. rights.
Many on social media remarked about the irony of one of the opening musical acts, which was performed by a Russian female pop duo known as t.A.T.u., who were popular with the song "Not Gonna Get Us" in the early part of the last decade. In a video for the song, they had shared a kiss and professed to protect their love despite opposition from society.
But as The Hollywood Reporter wrote, "Both members of the duo are, however, known to be heterosexual."

The Olympics opening ceremony will feature, among other things, the pseudo-lesbian (and irritatingly capitalized) Russian band t.A.T.u.
I'm confused about what "faux lesbians" are. Also confused re why it's ok to act like a lesbian in Russia, but not actually be one… #tatu
Themes of unity and rights for lesbian, gay, bisexual and transgender people were aired in creative ways on social media, including YouTube, Facebook and Twitter, and in corporate logos and diplomacy.
The official United Nations Twitter account shared a quotation from Secretary General Ban Ki-moon, complete with rainbow gloves.
At start of #Sochi2014 Olympic Games, Ban Ki-moon praises power of sport to unite all ppl. http://t.co/ifcvr837oL http://t.co/JAGZjEtMmB
"Many professional athletes, gay and straight, are speaking out against prejudice," Mr. Ban said at a meeting of the International Olympic Committee, according to a statement issued on Friday. "We must all raise our voices against attacks on lesbian, gay, bisexual, transgender or intersex people. We must oppose the arrests, imprisonments and discriminatory restrictions they face."
As the Winter Olympics got underway, many international sponsors were urged to speak out against the homophobia and discrimination.
Google created a logo, called a doodle, reflecting an array of athletes performing in the rays of a rainbow and quoted parts of the Olympic Charter:
With LGBT @Olympics page @Google proves again-they stood up to Beijing on censorship-that corps can back rights! http://t.co/rTZ513Ta5v
AT&T, while not a sponsor, posted a statement on its consumer blog earlier in the week voicing its opposition:
The Olympic Games in Sochi also allow us to shine a light on a subject that's important to all Americans: equality. As you may know, the lesbian, gay, bisexual and transgender (LGBT) community around the world is protesting a Russian anti-LGBT law that bans "propaganda of non-traditional sexual relations." To raise awareness of the issue, the Human Rights Campaign (HRC) has called on International Olympic Committee (IOC) sponsors to take action and stand up for LGBT equality.

AT&T is not an IOC sponsor, so we did not receive the HRC request. However, we are a longstanding sponsor of the United States Olympic Committee (USOC), we support HRC's principles and we stand against Russia's anti-LGBT law.
Two more #USOC sponsors join #ATT in speaking out against #Russia's anti-#LGBT law ahead of #Sochi #Olympics http://t.co/kdISSN1SN2 by @AP
On Friday, a live advertisement creation event, called One Minute Briefs, hosted on the Twitter account @oneminutebriefs, called on writers to share their own designs that Olympic sponsors might use to reflect diversity and recognition of L.G.B.T. rights.
The concept was started by an agency in Britain called Bank of Creativity, which regularly hosts the program to encourage an exchange of ideas through interaction on social media.
Today's One Minute Brief: Create ads to show how #WinterOlympics #Sochi2014 sponsors could promote LGBT cause. http://t.co/HQV4LNxr1L RT
@OneMinuteBriefs Advertise #LGBT #WinterOlympics #Sochi Imagine the voiceover from the BBC ads for Olympics http://t.co/an79rQ1V9j
@OneMinuteBriefs @ChipShopAwards @TheDrum #WinterOlympics Vlad to be gay http://t.co/9e2zjTriMK
@OneMinuteBriefs @ChipShopAwards #LGBT http://t.co/VnG8hgvtWL
A singing group based in Toronto, Choir Choir Choir, released a video remake of "Russians," a 1980s song by Sting. The song, originally a protest against nuclear war, was transformed by the Toronto group into a protest against L.G.B.T. discrimination, and posted on their Twitter and YouTube accounts.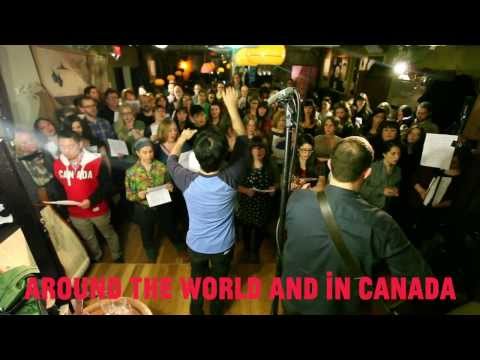 Choir! Choir! Choir! remade a Sting song with lyrics reflecting LGBT equality.
The Canadian Institute of Diversity and Inclusion encouraged its Facebook followers to change their profile pictures to that of two male luge athletes lying down in such a way as to form an equal sign, and created what it called a video public service announcement for the occasion.
The Canadian Institute of Diversity and Inclusion created a public service announcement to coincide with the opening of the Winter Olympics.
And then there was "Mother Russia," a parody video created by a Canadian production team intended as a "rebuttal to the Russian government's homophobic attitude ahead of the Olympics."
It was published in The Advocate, Elite Daily and the CBC's "George Stroumboulopoulos Show," as well as its own YouTube and Facebook accounts.
Follow Christine Hauser on Twitter @christineNYT.