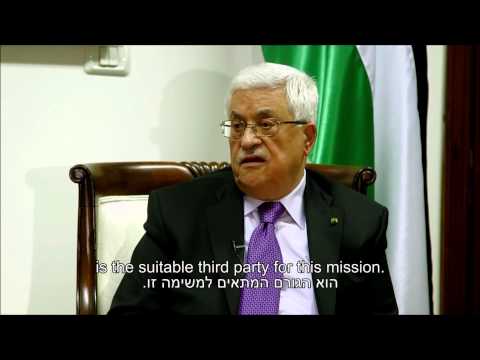 Institute for National Security Studies recording of President Mahmoud Abbas interview.
As my colleague Jodi Rudoren reported, the Palestinian president has said in a recorded interview that he could accept an Israeli military presence in the West Bank for a three-year transition period as part of a peace deal.
The remark, which along with others was broadcast in an interview of about seven minutes on Tuesday at an Israeli security conference in Tel Aviv, was his most specific recent public statement on the subject.
The interview aired as the chief Palestinian negotiator, Saeb Erekat, was scheduled to meet in Washington with Secretary of State John Kerry to discuss the American plan for a "framework" for continued negotiations.

Mr. Abbas, who was interviewed by Gilead Sher, a former Israeli peace negotiator, was speaking in Arabic with his remarks translated into English and Hebrew subtitles. He said, in excerpts:
First, the two-state vision must become real, in which the state of Israel will live alongside the state of Palestine on the 1967 borders in security and stability. The second most important section is the East Jerusalem be the capital of the Palestinian state. Jerusalem will remain open to all religions with arrangements between the two parties.

The borders of the Palestinian state will eventually be in the hands of Palestinians, not the Israeli Army. The refugee issue must be addressed based on the guidelines of the Arab peace initiative which calls for a just and agreed upon solution to the problem of Palestinian refugees according to the UNGA resolution 194.

If the elements are honored, I believe this will be an acceptable, lasting and legitimate solution.

This is an opportunity for you since we represent all of our people and want to sign an agreement that will be brought for approval in a referendum. But this opportunity for peace might not return. This solution will give the State of Israel recognition from 57 Arab and Muslim states. This will be full recognition that brings diplomatic ties between all these countries and Israel.

I hope that the Israeli people will understand what it means to live in a vicinity of peace from Mauritania to Indonesia rather than in the current situation.

We say that a transition period not exceed three years, during which Israel can withdraw gradually.

We are willing to allow a third party to take Israel's place during and after the withdrawal in order to soothe our concerns and Israel's and to assure both sides that things will continue as normal. I think that NATO is the suitable third party for this mission.

Hamas is not a problem, just leave it to us. We will reach an agreement with Israel on behalf of all the Palestinian people â€" in the West Bank, in Gaza and in exile.

We want the Israeli people to live in security in their state and the Palestinian people to live in their independent state.
Follow Christine Hauser on Twitter @christineNYT.