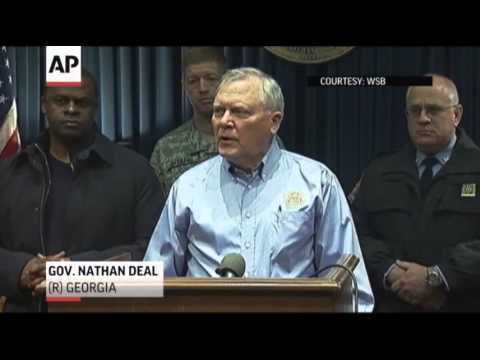 Snow and ice paralyzed Atlanta and other parts of the southeastern United States Tuesday and Wednesday, as my colleagues, Kim Severson and Alan Blinder reported. Thousands of motorists were stranded in their cars overnight while others abandoned their vehicles and slept in shopping centers. Hundreds of accidents were reported. Some schools kept students through the night, scrambling to feed them.
With 911 operators overwhelmed, emergency management officials turned to social media to help communicate with frustrated residents.
If you CAN'T get through to 911 please send a message to us through Facebook or Twitter.
And many people documented their ordeal on social media as they found themselves sleeping in their offices. Or, in some cases, a Home Depot and Publix, just two companies in the Atlanta area that flung open their doors to those unable to get home.
Stranded motorists sleeping, warming up inside the Home Depot off Cascade Rd off 285 #11alive http://t.co/oOv0QUaDh6
Folks sleeping in grocery stores, stranded in Atlanta. Photo: Jaime Sarrio @KDVR @ch2daybreak http://t.co/GXbyIovSpn
In Atlanta, gridlock stretched into the second day on Wednesday as some people remained stranded and others abandoned their cars and trucks, making it difficult for crews to clear a path through the ice-covered roads.
One woman gave birth in a car on Tuesday when she and her husband were trapped in a traffic jam at about 5 p.m. on Interstate 285 on their way to the hospital, the Atlanta Journal Constitution reported. The mother and the baby girl are fine and were taken to hospital by paramedics after a police officer assisted with the delivery.
Just got this picture from the family of baby girl born on 285 yesterday. "Grace," as in by "Grace of God." #wsbtv. http://t.co/KV9OLQEhXn
Atlanta's public schools were open on Tuesday when the first flakes began to fall. Then they were dismissed early, sending hundreds of school buses onto ice-covered roads at the same time. Some buses made it to their destination, but others returned the schools where children ended up spending the night. Many parents were unable to travel to pick up their children. One mother reported arriving home at 6 a.m. Wednesday after picking her child up from school at 1:30 in the afternoon.
The Atlanta School District tried to keep parents up to date, using Twitter and Facebook not only to broadcast updates but to answer questions. Twitter and Facebook also became vehicles for frustrated mothers and fathers, demanding to know whether their children were being kept warm and fed â€" and why the school system didn't shut down ahead of the storm.
Principal reporting kids at Therrell are fed and now wide awake! #makingthemostofit #aps #weather
On CNN, which is based in Atlanta, Mayor Kasim Reed tried to defend the city's response under tough questioning from an anchor, Carol Costello.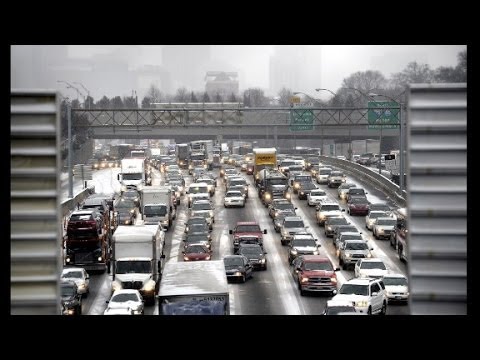 CNN's Carol Costello questions Atlanta Mayor Kasim Reed about the city's slow response to storm that left thousands of people stranded in their cars, offices and schools.