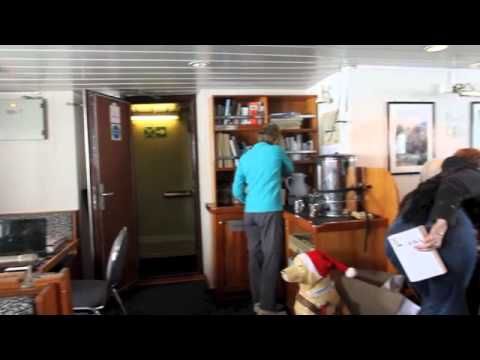 With the bleak, icy weather outside their windows, passengers and crew on a research ship stranded in the Antarctic are occupying themselves in the cozy interior by reading books or laptops, chatting in small groups and passing food to each other at a communal dining table.
Set to slow, jazzy music, those scenes on Monday were part of a one-minute video meant to offer a glimpse into the life of the people aboard the chartered Russian ship, the 233-foot Akademik Shokalskiy, which has been jammed in place in an unyielding field of ice in the Antarctic since last Tuesday.
But just hours later, a professor leading the scientific expedition posted a series of messages on Twitter that veered from bleak to buoyant after the news came through that yet another attempt by an icebreaker to reach them at their ice-locked position had failed.
Bad news: Aurora couldn't get through. Tried twice. Low visibility & heavy ice. Returning to open water. Try again tomorrow? #spiritofmawson
Shocking weather today. Wet & windy. Had to use tent for comms on top deck. Aladdin's Cave. In the #spiritofmawson! http://t.co/WppeIGeJhT
A disappointing day by hopefully the icebreakers well get through to us tomorrow. #spiritofmawson Alok Jha https://t.co/CZCo7JEFhc
Had a few hours sleep. Feel better. Good news: visibility improved to horizon. Wind moderate (20 knots). Breakfast @0800. #spiritofmawson
For nearly a week, about 70 scientists, crew, students and others have been trying to keep up their spirits and entertain themselves aboard the ship. Their ordeal has been tracked through a steady flow of social media postings and videos, providing a snapshot of rescue efforts and the mundane efforts at keeping themselves occupied.
As my colleague Henry Fountain reported, the Aurora Australis icebreaker got within 12 miles of the Shokalskiy early Monday but had to turn back because of snow and high winds. The Australian Maritime Safety Authority, which is coordinating the rescue, said the ship may try again to reach the Shokalskiy if the weather improves, or a helicopter could be used if the weather permits.
While Dr. Turney, a professor of climate change at the University of New South Wales in Australia, said there was enough food and other necessities to last several weeks, his timeline on Twitter, @ProfChrisTurney and YouTube account Intrepid Science are a forum for the narratives of isolation and resilience that the unforgiving weather has imposed on those aboard.
News of the latest failed attempt at rescue came after several video messages had been recorded by passengers and expedition members; eager, cold and hopeful.
On Monday, an expedition member onboard, Terry Gostlow, was recorded standing outside on deck, speaking to a snow-flecked video camera lens. "It's minus 1 and blowing snow," he said, his shoulders hunched inside his parka. "We are all in a really good mood because the Australis is only 20 kilometers away."
He said one woman was giving out hugs in the corridor to everyone she saw. A nightly briefing was keeping everyone informed. An impromptu dance routine in the ship's auditorium provided light entertainment. "All good fun here in the Antarctic," said Mr. Gostlow. "We love you all we are missing you, but we will be with you soon," he said.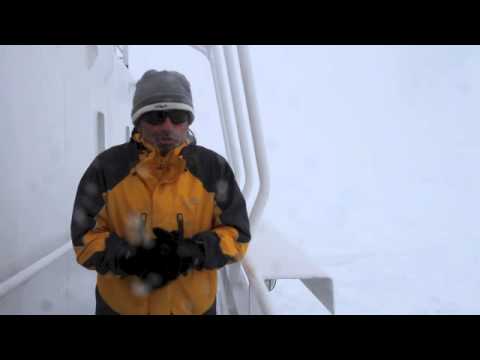 John Black, another expedition member, also appeared in a video letter on Monday, wobbling on deck as he appeared to try to keep his footing in the bullying winds.
"It's blowing an absolute blizzard here. There is a total white-out. There is snow blowing everywhere and it's damned cold outside," he said. He said everyone was "fine" as they they waited for rescue by land or by air. "Either way it's a fantastic adventure we are having."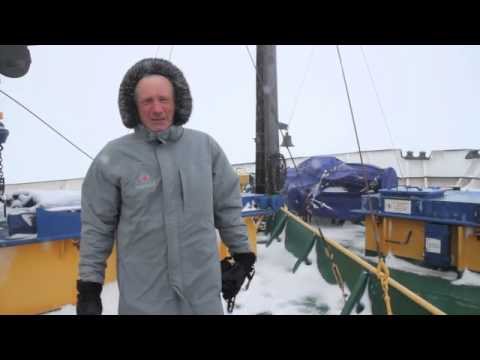 The Australian government's antarctic division, on its website, shows a time lapse video of the changing weather as the Australian icebreaker made its way toward the stranded vessel over the past several days. The days flit by with gray skies and obscured horizons.
On Dec. 29, Nicole De Losa, who was sent on the ship through a contest, sent a video message to her parents and others. She said she has passed her time drawing. There was dancing, and there were plans for singing, on the ice.
"We are all having a good time here as well," she said. "The morale on the boat is excellent."
"It is absolutely spectacular here. It is like this magical winter wonderland," she added.