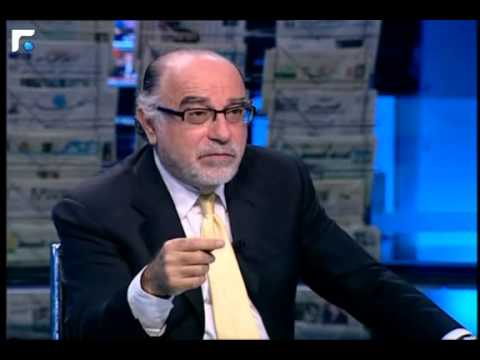 Video and social media images of a bomb blast in downtown Beirut were widely shared online, highlighting the first such attack in several years to hit the capital's business district as well as some of the final public remarks and writings of a prominent Lebanese politician who was among the six people killed.
While there has been no claim of responsibility for the attack, as my colleagues Anne Barnard and Dan Bilefsky reported, much of the attention in the aftermath settled on Hezbollah and the war in neighboring Syria.
The politician who was killed, Mohamad B. Chatah, was a former ambassador to the United States and former finance minister. While it was not clear whether he had been specifically targeted, he had been a vocal critic of the government in neighboring Syria and its ally, the Lebanese militia and political party Hezbollah.

In an interview with the Future Television network last month, Mr. Chatah said, in part, that Hezbollah should be viewed more broadly than as just a domestic political party.
"It is bigger than that," Mr. Chatah said in the interview. "We should look at Hezbollah's speech on a broader context. Hezbollah is not like any other party. Hezbollah is playing an essential role on behalf of a grand coalition, based in Iran, of course. And we should look at the Republican Guards and the Iranian leadership to read Hezbollah stances here."
On his Twitter account, @mohamad_chatah, his apparent final post just hours before the bombing was a single message about Hezbollah that was apparently intended for the widest possible audience, written both in English and in Arabic.
#Hezbollah is pressing hard to be granted similar powers in security & foreign policy matters that Syria exercised in Lebanon for 15 yrs.
حزب الله يهول ويضغط ليصل الى ما كان النظام السوري قد فرضه لمدة ١٥ عام: تخلي الدولة له عن دورها وقرارها السيادي في الأمن والسياسة الخارجية
His timeline reflected a history of his thought on the subject of Syria and Hezbollah, a theme he also explored extensively on his blog, where he linked the conflict in Syria with Lebanon's violent past.
Fact number 1: A united and peaceful Syria ruled by Assad is simply not possible anymore. It has been like that for some time. The status quo ante cannot be restored. Iran and Hezbollah realize this more than anyone else.

Fact number 2: The Assad regime is incapable of adapting to a power sharing arrangement as contemplated by the Geneva principles. The regime is brittle and fragile as it is brutal and ruthless. It can break but cannot bend. Assad knows it and Iran knows it.

Fact number 3: A free and democratic Syria would be a strategic disaster for Tehran. If given a choice, the Syrian people would be certain to sever their country's geopolitical alliance with the Islamic Republic and stop providing a geographic corridor to Iran's military arm in Lebanon..

Fact number 4: Iran's second best alternative to the irretrievable status quo ante is simply a protracted war. This is now Iran's victory strategy. A bloody and chaotic Syrian theater will still be usable by Iran and Hezbollah more flexibly and efficiently than their western enemies. Remember the civil war in Lebanon?

Fact number 5: A protracted war in Syria will help terrorism flourish even more. Both the kind manipulated used by the regime to blackmail the west and the "authentic" strain that festers and spreads in open wounds, like opportunistic parasites.

Conclusion: If Iran's militant ideology and hegemonic ambitions and radical "Islamic" terrorism are the two strategic threats that need to be overcome, then the policy towards Syria should aim at bringing to a quick end both the devastating war and Assad's rule. Humanitarian considerations aside, any policy that is based on the premise that a protracted conflict in Syria is costless is misguided and dangerous. It is exactly what Iran wants and it will help the scourge of terrorism to thrive.
As Ms. Barnard reported, Hezbollah issued a statement calling the bombing "a heinous crime" and calling for a full investigation by the security forces. On Twitter, she shared excerpts from her reporting, as did other journalists with firsthand material.
Civil defense worker at Beirut bomb site: Whoever did this is "anti-Lebanon, anti-civilian, anti-humanity." http://t.co/OnqPVDxTQP
Images from journalists with The Associated Press showed some of the damage.
A damaged armored vehicle #Beirut #Lebanon #بيروت #لبنان http://t.co/k86bDxJxTE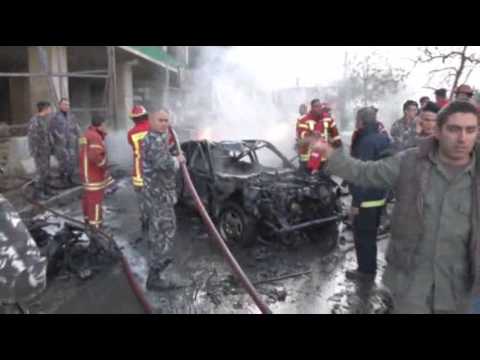 Future TV posted dramatic and graphic footage on its YouTube account of the blast and rescue efforts of some of the casualties.