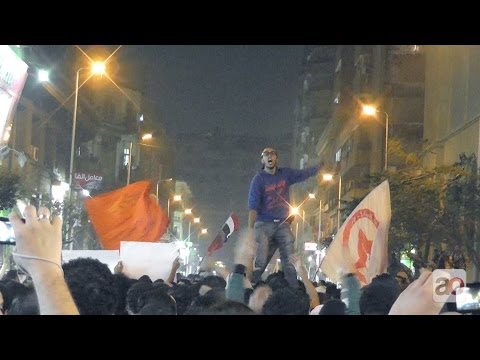 There were street protests in Egypt's two largest cites on Wednesday, amid signs that attempts to stifle dissent by the military-backed government were fueling a backlash.
Thousands of protesters marched in downtown Cairo, defying a new law that effectively bans demonstrations, and there was widespread anger on social networks at the harsh prison sentences handed down by a court in Alexandria to young, female supporters of the ousted Islamist president, Mohamed Morsi.
Protesters stop in front of parliament. Zizou Abdou of April 6 says this was unauthorized protest, crowd cheers http://t.co/hDjau45Hpr
Tear gas fired outside Mansheya courtroom to disperse activists. It's an MOI lifestyle #Alexandria #Egypt v @i3atef http://t.co/CMiOxW4gfY
While the activists who marched in Cairo were clear about their opposition to both the current military chief, Gen. Abdul-Fattah el-Sisi, and the former president, Mr. Morsi, even fierce opponents of the Muslim Brotherhood expressed shock that the young Islamists had been sentenced to 11 years in jail for waving placards and holding balloons at a protest last month.
As the rights activist Heba Morayef explained, anger at the sentences was intensified by the fact that several of the young women were minors.
Madness is when prosecutors put 15-year olds on trial for having participated in a peaceful demonstration Oct 31 http://t.co/ttCqpy4qvo
judiciary rubber-stamping the madness:14 women from the MB, 6 of them minors, sentenced to 11yrs for a peaceful demo http://t.co/44hPqck4YS
#BREAKING #Egypt | Court sentences 14 pro-#Morsi female protesters for 11 years http://t.co/5atEZVVsEP
11 years for just waving a sign !!! Justice does not know Egypt for real
I still can't believe it..14 young girls have been sentenced to 11 years in jail for demonstrating by balloons with "rabaa " signs !!!!!
@amrhamdon بنات الاسكندرية وهما يبلبسوهم الكلابشات!البنت دي لو اسمها مني سيف كان زامن الدنيا اتقلبت #بنات_الاسكندرية http://t.co/9rXB1D5835
I despise #MB and cannot understand the sympathizers. But sentencing 18-22yr old girls for holding pro MB balloons is utter madness. #Egypt
Today, tear gas fired to disperse activists in Mansheya, #Alexandria, outside the court. via #Alex Eyes #Egypt http://t.co/3RuHaqZAWh
Faced with growing unrest, the authorities issued warrants for the arrest of two prominent activists, Ahmed Maher and Alaa Abd El Fattah. The fact that both men have been persecuted by successive Egyptian governments gave rise to a number of sardonic comments from activists and journalists on Wednesday.
The only stability and reliability we have in Egypt is that successive rulers never fail to arrest @alaa. http://t.co/CsNVCsdC42
The constitution should have an article limiting the number times @alaa can be arrested in one presidential term.
Charging @Alaa and @GhostyMaher for organising a #NoMilTrials protest proves there's not a single member of this govt on the internet.
For their part, both men attacked the decision in messages posted on their popular Twitter feed, which are read by nearly 700,000 people.
The human rights situation in Egypt has become worse than the Mubarak era, now they arrist any one try to think about criticizing the gov
The ruling regime in Egypt now using the word "war against terrorism" to establish an authoritarian regime worse than before 2011
♻ @Linaattalah: I hear police intensifying efforts to arrest @alaa. Well, we were just chilling in a downtown cafe. #الدولةالعبيطة
Deja Vu, I'm about to hand myself in to the authorities again on saturday. my ever imminent arrest is now a… http://t.co/XSgLSHDTyA