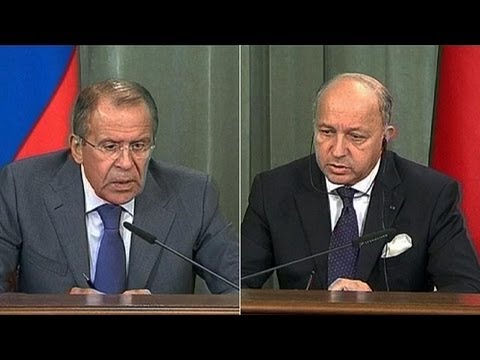 Sitting next to his French counterpart in Moscow on Tuesday, Foreign Minister Sergey Lavrov of Russia insisted that there were still "serious grounds to believe" the deadly chemical attack in Damascus last month "was a provocation," staged by Syrian rebels, despite evidence in a United Nations report that seemed to suggest government forces were to blame.
Asked about the report, Mr. Lavrov told reporters the findings of U.N. weapons experts â€" who reported that the poison was delivered in shells with Cyrillic writing on them by rockets known to be in the possession of the Syrian government â€" should be weighed alongside other information circulating online.
Russia's top diplomat made a similar argument over the weekend in Geneva, even as he worked out a deal to take Syria's chemical weapons out of the hands of President Bashar al-Assad's generals. But on Tuesday he drew attention to an unusual source: a skeptical analysis of the online video evidence produced by a Lebanese nun who did not witness any part of the attack.
Mr. Lavrov has previously had cause to regret endorsing Internet speculation. Last month, he cited the inaccurate claim by pro-Hezbollah bloggers that video of the attack's victims had been posted online the day before the event, which was subsequently debunked. On Tuesday, though, he again pointed to what he called information published online, "including evidence provided by nuns at a nearby convent" to bolster his argument that rebel forces had carried out the Aug. 21 attack on the outskirts of Damascus.
#Lavrov: The #UN inspectors' report should be analysed together with the evidence published #online and in the #media
As the Human Rights Watch emergencies director Peter Bouckaert suggests, it seems likely that Mr. Lavrov intended to highlight the arguments of Mother Agnes Mariam de la Croix, a Carmelite nun born in Lebanon who is frequently quoted in the Russian media, and by American critics of Islam, defending the Assad government.
@MFA_Russia your 'online sources' are fringe websites and discredited Assad propagandist like Mother Agnes. You have no real evidence.
Despite Mr. Lavrov's endorsement, however, Mother Agnes has not presented any concrete evidence on the attack and was not nearby when it was carried out. (Her monastery is north of Damascus, not near the site of the attack.) Instead, she has written a rambling, 50-page analysis of the video posted on opposition YouTube channels that contains nothing but speculation that some or all of it was staged.
It seems likely that the nun's idiosyncratic study of the video evidence would have attracted little attention, but for the fact that she was subsequently presented as an expert witness to events by Russia Today, the Kremlin-owned news network that is promoted on the Russian foreign ministry's Web site.
In an interview with RT two weeks ago, Mother Agnes said that she was convinced, based on her study of the footage posted online, "that the whole affair was a frame-up. It had been staged and prepared in advance with the goal of framing the Syrian government as the perpetrator."
"The key evidence is that Reuters made these files public at 6:05 in the morning," she continued. "The chemical attack is said to have been launched between 3 and 5 o'clock in the morning in Ghouta. How is it even possible to collect a dozen different pieces of footage, get more than 200 kids and 300 young people together in one place, give them first aid and interview them on camera, and all that in less than three hours? Is that realistic at all?"
However, a close look at what appears to be the early Reuters report Mother Agnes cited as evidence suggests that her suspicion was ill-founded. The report's time stamp indicates that it was posted online on Aug. 21 at "6:05 a.m. EDT," or Eastern Daylight Time, the time zone used in New York, which is seven hours behind Syria. That means that the report, based on video of the attack's victims, appeared just after 1 p.m. in Syria that day â€" ten, not three, hours after the first video of the victims was posted online.
The nun also described her suspicions a week earlier in a Skype interview with the Canadian Web site GlobalResearch â€" whose founder has called the 9/11 attacks "a pretext" for invading Afghanistan, and asserted that there is "not a scrap of evidence" that Al Qaeda was responsible. She told the site that at the time of the attack she was in Damascus, not far from the hotel where the U.N. investigators were staying, and did not believe there had been a chemical attack. "How is it possible, you know, for a chemical weapon to be blown up" on the outskirts of the city, she asked, if no one in the city noticed any unusual smell after the event.
She then asserted that since those rebel-held neighborhoods on the outskirts of Damascus had been so badly pummeled by a government counter-offensive that it was unrealistic that so many civilians could have remained behind to be killed. In her study of the videos, Mother Agnes presented the theory, unsupported by evidence, that the dead children seen in Ghouta that day might have been brought there from another part of Syria and killed by jihadists intent on framing the government.
(As Muhammad Idrees Ahmad reported in The New Republic, a blog post on the GlobalResearch site promoting the idea that the attacks were staged, endorsed by Rush Limbaugh, was later quoted without attribution in an open letter to President Obama from a group of former U.S. intelligence professionals. That letter has also been cited as evidence by Mr. Lavrov.)
Mr. Lavrov also said Tuesday that the report did not reach a conclusion about "whether the munitions used in the attack were produced at a factory or were home-made."
As my colleagues Rick Gladstone and C.J. Chivers reported, the U.N. investigators "were unable to examine all of the munitions used, but they were able to find and measure several rockets or their components. Using standard field techniques for ordnance identification and crater analysis, they established that at least two types of rockets had been used, including an M14 artillery rocket bearing Cyrillic markings and a 330-millimeter rocket of unidentified provenance."
In his remarks on Tuesday, The Washington Post reported, Mr. Lavrov "said the discovery of Cyrillic lettering on one of the rockets that delivered the gas was not significant. He suggested that other nations, including some in the West, have been counterfeiting old Soviet weaponry, and he called on them to stop doing so."
As my colleagues also explained, the U.N. findings did contain evidence suggesting that the rockets carrying dozens of liters of chemical weapons had come from the direction of a Syrian military base:
One annex to the report also identified azimuths, or angular measurements, from where rockets had struck, back to their points of origin. When plotted and marked independently on maps by analysts from Human Rights Watch and by The New York Times, the United Nations data from two widely scattered impact sites pointed directly to a Syrian military complex.